Recipe ideas


Back to the list
Dish
Kung Pao Shrimps Created by Chef Tony Jiang, Tacovery Studio, Jing'an district, Shanghai
Recipe from Chef Tony Jiang, Tacovery Studio, Jing'an district, Shanghai
Kung Pao is a very traditional Chinese cooking method. It gives a tasty, hot, spicy, soy sauce and sweet flavor. (Eat Hot). We can cook the chicken or sea food with this method. This hot spicy seafood is married very well with Provence Rose wine, the freshness of the wine is combined with the hot and spicy taste. The fruity aromas are balanced with the sweet-smelling and spicy flavor of the shrimps.
Rosé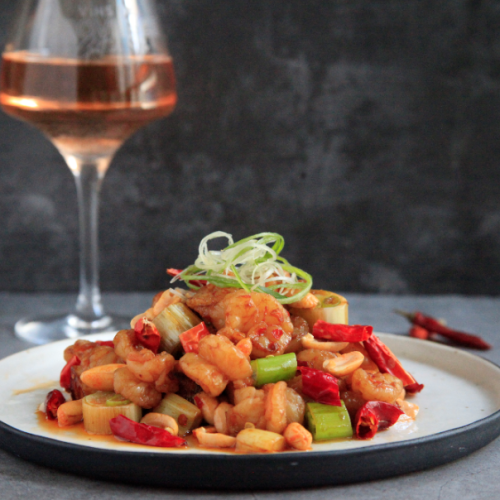 Ingredients
12 pieces Shrimps
50 g peanuts
20 g leek
8 pieces dry chili
3 g ginger
3 g garlic
3 g sichuan pepper
20 g egg whites
1 g pepper
Kung Pao Sauce
20 ml vinegar
15 ml soy sauce
5 ml black soy sauce
15 g sugar
7 g cornstarch
5 g flavored chili sauce
2 ml sesame oil
Direction
Shell the shrimps and season it.
Cut the onion, ginger and garlics.
Prepare the Kung Pao sauce.
Pan fry the shrimps , add the Kung Pao sauce then reduce it.