Myth busters about rosé wines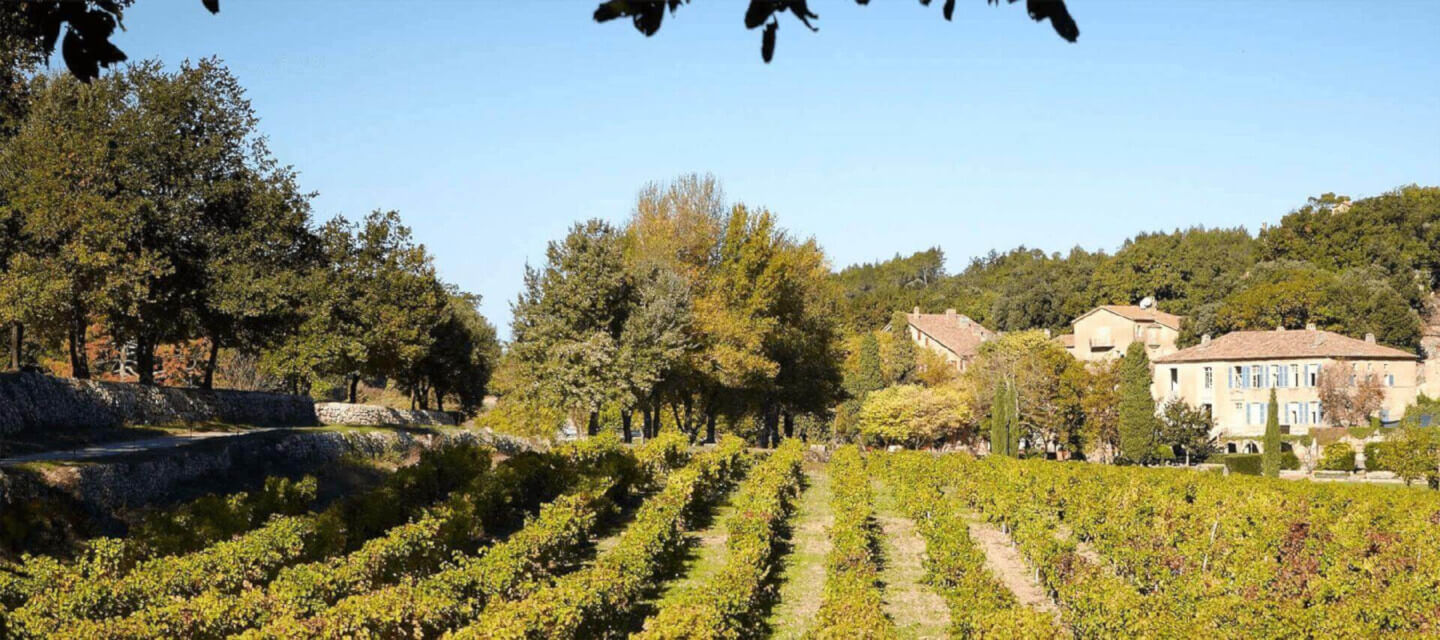 Rosé, the wine that's so easy to drink, yet so difficult to make. The wine that implores you to "seize the day" and enjoy the carefree moments of the present, whilst also boasting a history that spans three thousand years…
When it comes to the iconic colour of Provence wines, contradictions abound. This explains why some myths, such as the image of rosé as a simple wine with no history, persist today. But other factors are also at work and help perpetuate a number of myths embedded in the popular psyche. In a world where wine consumption has stalled, or even declined, rosé wines have grown constantly over the past twenty years. The crossover in the curves may have sent out the wrong meaning and implied that such a popular wine in a challenging period for the industry may not be totally legitimate.
At a time when people like to make sense of the products they eat and drink, though, the time has come to debunk these myths and restore the full complexity, depth and diversity of rosé wines. And that's precisely what this little guide intends to do!
The full guide can be downloaded here: https://www.vinsdeprovence.com/files/1a6aec6d/civp_2021_guide_myth_busters_rose_wines_en.pdf
MYTH N° 1: ROSÉ, A WINE WITH NO HISTORY
WHY IS THIS NOT TRUE?
Because it is one of history's oldest wines! In Antiquity, wines produced across the Mediterranean rim, first in Greece and later throughout the Roman Empire, were all very light-coloured wines. The grapes were crushed and the juice immediately began fermenting. There was no contact with the must, no vatting or ageing, so the wines were very lightly coloured.
IN THE PROVENCE WINE REGION, the cradle of French winegrowing, rosé wine has been produced for 2,500 years. It took a while to become the region's speciality, though, because rosé was extremely prevalent throughout history, even when winegrowing headed north. But, whilst other wine regions turned their backs on the colour when production of red wines started to surge in the 17th century, Provence would remain true to rosé, choosing the most appropriate grape varieties and vineyard sites and honing ancient winemaking techniques. Today, Provence is still the only wine region where rosé accounts for over 90% of the volume produce.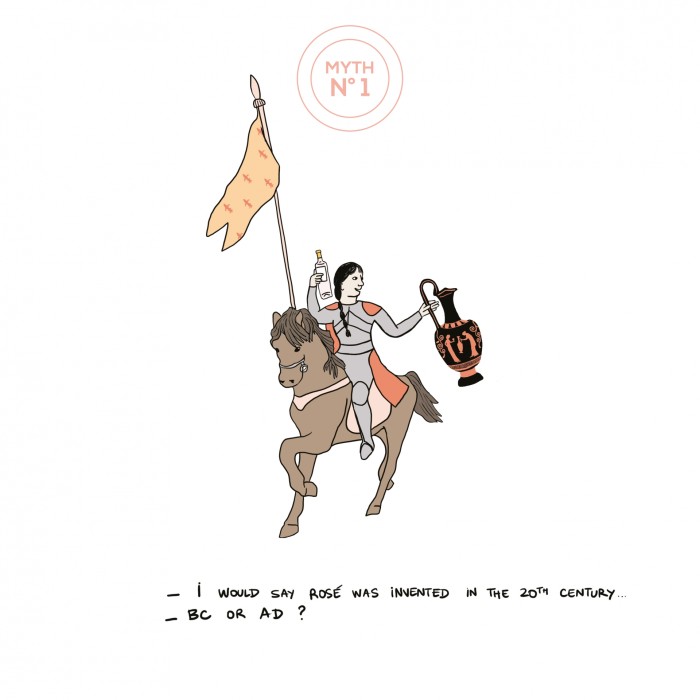 MYTH N° 2: ROSÉ IS SIMPLE TO MAKE
WHY IS THIS NOT TRUE?
Because it's a wine that requires expertise and experience. In fact, some say it is the wine that needs the greatest precision! Contrary to what some entrenched beliefs suggest, rosé is not made by mixing red and white wine. Rosé requires impeccable fruit and substantial control over winemaking techniques.
IN THE PROVENCE WINE REGION, winegrowers have developed specific winemaking techniques to preserve the freshness of the crop – this is the direct-topress method. As soon as the grapes arrive at the winery, they go straight to press, where the juice is delicately separated from the skins. The first juice is collected partially or entirely, then the fine sediment is removed. Only the clear juice is kept and taken straight to temperaturecontrolled fermenters. The resultant wines are a pale pink with their hallmark crisp fruit on the palate.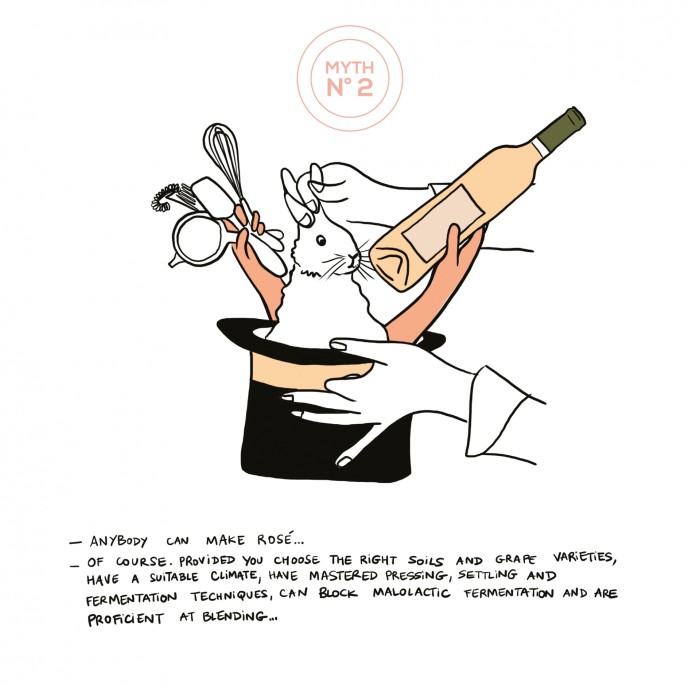 MYTH N° 3: ALL ROSÉS ARE THE SAME!
WHY IS THIS NOT TRUE?
Because worldwide, there are myriad styles, depending on the grape varieties used, the vineyard sites, the ripeness of the crop and the choice of winemaking techniques. In terms of profile, there are dry rosés but also sweet, mediumsweet and sparkling rosés. France is the world's leading country in terms of production, followed by the United States and Spain, but rosé is also made in Italy, Portugal, Switzerland, Austria, Argentina, Chile, South Africa, Australia…
IN THE PROVENCE WINE REGION, where approximately 40% of French appellation-labelled (AOC) rosés are made, rosé wines display an iconic, pale and highly aromatic profile. But within this standard profile are numerous subtleties stemming from the choices made by winegrowers and site-specific characteristics. The Provence wine region is home to three different appellations: AOC Côtes de Provence; AOC Coteaux d'Aix-en-Provence and AOC Coteaux Varois en Provence. In fact, the first one is home to five smaller terroir designations. The appellations have distinctive soil types, weather patterns, elevations, proximity to the Mediterranean and wind exposure. This eclectic combination is further bolstered by the variety of authorised grape varieties.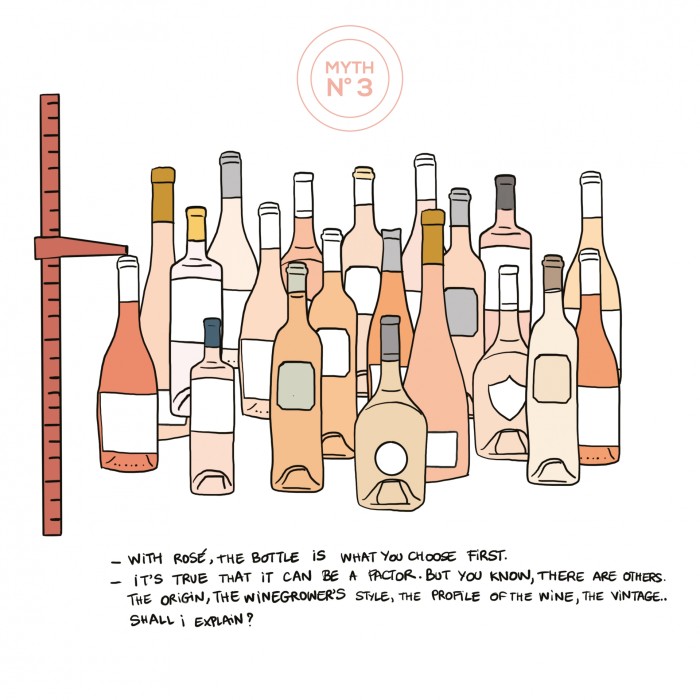 MYTH N° 4: YOU CAN ONLY DRINK THE LATEST VINTAGE OF ROSÉ
WHY IS THIS NOT TRUE?
Because you can enjoy other vintages too, and not just the latest. It's true that over time, the colour drifts from bright pink to more of a salmon-pink tinge and aromatic expression gradually displays spicy, empyreumatic, floral or ripe fruit notes in addition to the yellow or white fruit aromas, citrus and tropical fruits. But the wines are not fading, they are broadening their spectrum. The penultimate vintage of a rosé wine is still gratifying and continues to display its iconic style but will appeal to inquisitive consumers who keep an open mind when it comes to new profiles.
IN THE PROVENCE WINE REGION, winegrowers were exposed to the issue of the lifespan of rosé wines early on, particularly because they were the first to export rosé wines across the globe – in other words, they knew when the wine would leave their winery, but not when it would be drunk. They have gained control over oxygen management, enabling them to craft rosés that fully retain their delicious characters over time.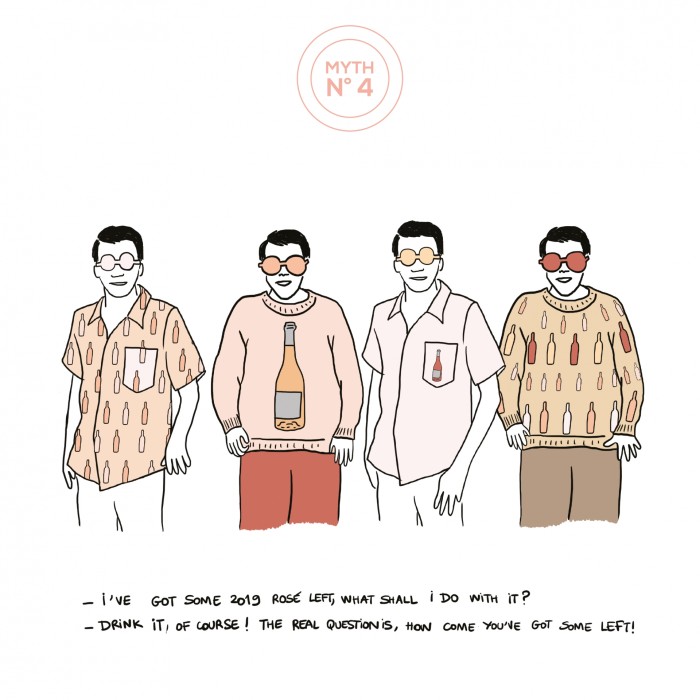 MYTH N° 5: ROSÉ CAN ONLY BE ENJOYED AS AN APERITIF
WHY IS THIS NOT TRUE?
Because rosé wines are equally suitable for an aperitif as they are for an entire meal! Due to their easy-drinking character they have become a go-to wine for casual occasions such as pre-dinner drinks or aperitifs, to be enjoyed alongside canapés, buffets, tapas and sharing platters. However, rosé wines' versatility is also an advantage when it comes to the dinner table, where they will pair equally as well with seafood, vegetarian, fish and poultry dishes as they will with cheeses. They also stand up flawlessly to all types of cuisine, from Mediterranean and Oriental to Creole and Asian dishes.
IN THE PROVENCE WINE REGION, there are no preconceived ideas when it comes to drinking rosé with food, either in restaurants or at home. AOC Côtes de Provence rosé wines pair with aioli, stuffed vegetables, risotto, pasta with clams or tagine. Those from AOC Coteaux d'Aix-en-Provence make good companions for, say, seacaught fish, either pan-seared or marinated, or soft cheeses. AOC Coteaux Varois en Provence rosés can be served with pistou soup or spicy foods like curry. There is a wide range of possibilities.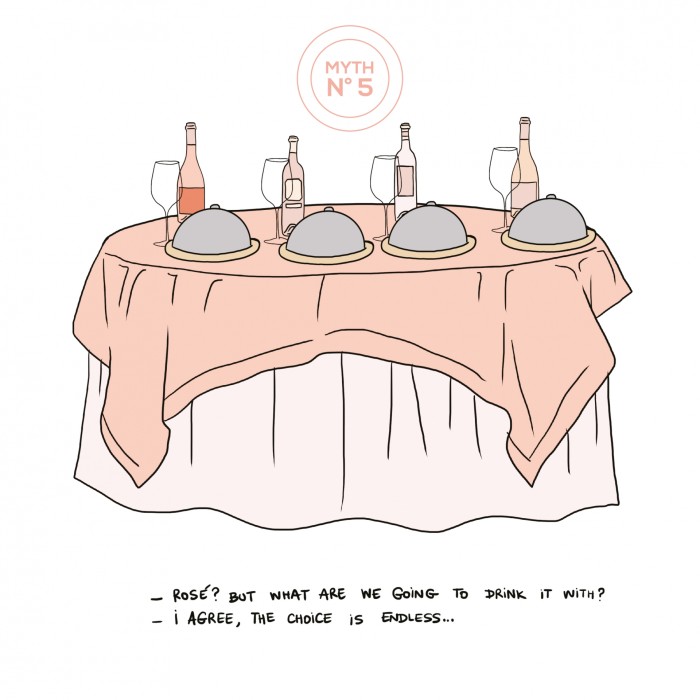 MYTH N° 6: ROSÉ IS FOR SUMMER DRINKING ONLY
WHY IS THIS NOT TRUE?
Because it is a cultural construct, specific to France. It can be easily explained and is related to the invention of tourism in the 19th and 20th centuries, and its subsequent development. As tourism went mainstream, and coincided with a decline in farming activities, the holiday season moved to the summer. As the French rediscovered rosé during their holidays, they associated it quite naturally with good weather, which highlighted its refreshing flavours. This idea became entrenched in the national psyche but is not a universal concept. In other countries, where admittedly rosé consumption is higher when the sun shines, it is more evenly distributed throughout the year.
IN THE PROVENCE WINE REGION, people have subconsciously made rosé wine consumption somewhat seasonal. Nothing is cast in stone – at the forefront of market trends, winegrowers have noticed that consumption is becoming weather-sensitive. Consumption is dictated less by the season and more by the weather. As soon as the weather is nice, people willingly drink a glass of rosé, even in the winter. It is the go-to drink for al fresco pavement café drinking, in city restaurants and areas that draw in large numbers of holiday makers like ski or seaside resorts.