Back to the list
Dish
Duckling fillet with creamy polenta, dried fruits and spicy caramel By the chef Franck Mischler
A Recipe by the chef Franck Mischler from the La Folie Douce restaurant in Les Arcs (Savoy)
Côtes de Provence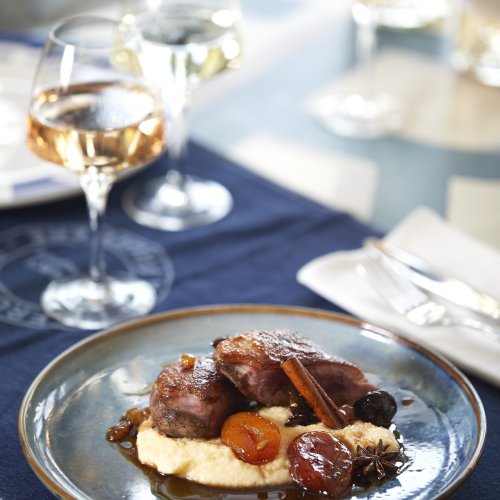 Ingredients
4 small duckling fillets
100 g polenta
8 dried figs
8 dried apricots
8 prunes
80 g raisins
40 cl milk
5 g salt
10 cl cream
50 cl Port
50 cl white wine
250 g sugar
5 cardamom seeds
5 cinnamon sticks
5 star anise
2 oranges
2 lemons
Direction
The polenta: Boil the milk in a saucepan with the salt, sprinkle the polenta over and leave to cook for 45 minutes, stirring continuously over a low heat. Once cooked, add 10cl of cream to keep the texture creamy and set aside in a bain-marie.
The duckling fillets: Lightly trim the fat off the duckling, season, brown first on the fat side for 2 minutes and then on the flesh side for 2 minutes. Finish in the oven for 4 minutes at 180°C, then remove from the oven and leave to cool for 5 minutes before serving.
The spicy caramel: Dry smoke the spices in a saucepan, deglaze with the port, then the white wine and add the sugar. Add the zests of 2 oranges and 2 lemons and reduce to a syrupy caramel. Pour the syrup over the dried fruit.
How to serve
Place the polenta in the middle of the plate.
Then arrange the duckling fillet, prunes, apricots and raisins on top of the polenta. Place the spicy caramel in the middle of the plate.
Finish off the presentation with a cinnamon stick and one star anise.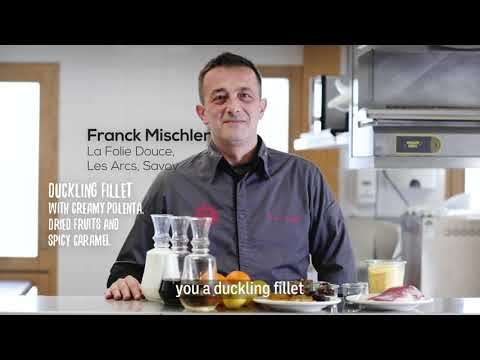 Duckling fillet with creamy polenta, dried fruits and spicy caramel - Wines of Provence