Recipe ideas


Back to the list
Dish
Dry cooked kidney beans in wok with minced meat Created by Chef Tony Jiang, Tacovery Studio, Jing'an district, Shanghai
Recipe from Chef Tony Jiang, Tacovery Studio, Jing'an district, Shanghai
Dry fried kidney beans is a classic hot dish, which is made from green beans and minced pork. The fresh and slightly spicy taste is suitable for matching with Provence Rose. the fruity aroma of the wine has a perfect combination with stir fried vegetables. The light tannins of Rose and the fat released by a small amount of meat in the dishes complement each other. The spicy taste of the dishes is combined with the fresh and cold taste of the wine.
Rosé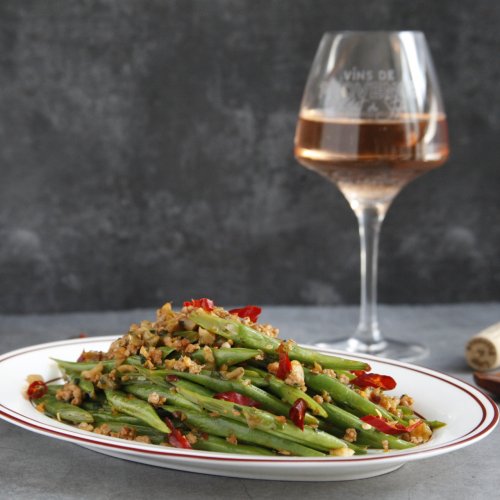 Ingredients
300 g kidney beans
100 g meat paste
5 g garlic
3 pieces dry chili
50 g Yibin sprouts
3 g sugar
1 g pepper
5 ML soy sauce
5 ML yellow wine
Direction
Mix the meat paste with pepper, yellow wine and soy sauce.
Cut the kidney bean into 5CM, Chop garlic and dry pepper into small pieces.
Stir fry the bean in wok until they are wrinkled and cooked.
Heat the oil in a wok and stir fry the marinated minced meat.
Add minced garlic, dried pepper and sprouts, stir fry and stir fry until fragrant.
Add beans, sugar and soy sauce.
Stir evenly, then turn off the heat.