Recipe ideas


Back to the list
Dish
Spaghetti and Little Neck Clams with Château Minuty M Rosé
Created by Chef Alex Seidel, Mercantile Dining & Provision, Denver, CO
Côtes de Provence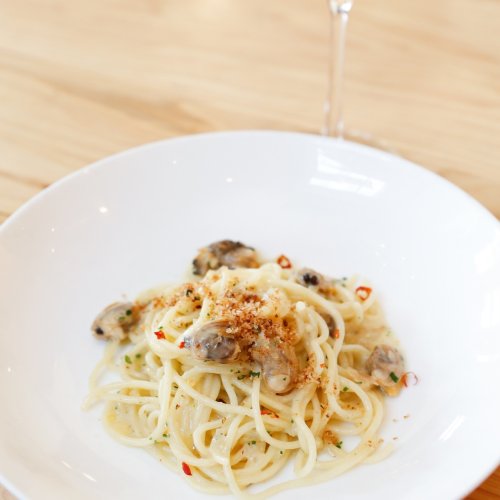 Ingredients
12 oz. dried spaghetti (cooked and held)
30 little neck clams (removed from shell) per portion
3 Tbsp. butter
2 Tbsp. olive oil
1 cup white wine
3 shallots (minced) per portion
2 cups clam juice
1 tsp. red chili flakes
½ cup seasoned bread crumbs
¼ cup grated Parmesan
2 Tbsp. lemon juice
Kosher salt
Ground white pepper
Direction
In a large sauté pan over medium heat, combine the olive oil, chile flakes and the minced shallots.
Sweat the shallots until translucent. Deglaze the pan with the white wine and bring to boil.
Add the clam juice and bring to a boil, then add the butter and the spaghetti and bring back to a boil. Add the clams and continue to cook until the clams are just cooked.
Finish with the grated Parmesan and lemon juice. Taste and season with kosher salt and white pepper.
How to serve
Note: This pasta dish should not be liquidly, with just enough sauce to coat the pasta.
Using tongs, plate 6 equal portions of pasta in bowls and top each portion with a tablespoon or so of breadcrumbs.