Back to the list
Dish
Tarte de Mentone paired with Sulauze "Pomponette" Rosé 2020, AOP Coteaux d'Aix-en-Provence
Chef Matthew Bowden from Mentone in Aptos, California
Coteaux d'Aix-en-Provence
Ingredients
Tart Dough
7 grams instant yeast
210 grams water
90 grams extra virgin olive oil
420 grams all-purpose flour
9 grams salt
Onions
8 white onions thinly sliced
1 garlic clove chopped
1 sprig marjoram
1 sprig thyme
100 grams extra virgin olive oil
200 grams vermouth
10 grams colatura (Italian fermented fish sauce) or other fish sauce
Salt and white pepper to taste
Anchovies packed in oil
Niçoise Olives
Direction
Mix the water, yeast and olive oil in a small bowl, and let sit for 5 minutes. Place the flour and salt in a large bowl, then add the water-yeast-EVOO mix and knead by hand until smooth and elastic.
Place in a clean bowl, cover, and let proof for one hour.
After one hour, punch down the dough to deflate slightly. Roll the dough onto a lightly floured surface and use a rolling pin to roll into 1/4-inch thin round.
Cut to fit your 12-inch tin, then place the dough in tin, cover, and let proof for another 45 minutes. (Note: if the dough shrinks after you cut it, don't worry, the second proofing will relax the dough.
While the dough is proofing, prepare the onions.
Add olive oil and thinly sliced onions to a sauté pan on medium heat.
Cook gently until onions are soft and translucent, then add marjoram and thyme.
Push onions to one side of the pan and add the vermouth. Let vermouth reduce slightly for a minute, then stir into the onions. Season with white pepper and fish sauce to taste.
Preheat your oven to 410 degrees.
After the dough has proofed in the pan for 45 minutes, gently press the dough to push up against the edges of the tin.
Layer the onions over the top of the dough, leaving a border around the rim of the pan.
Place the tarte into your heated oven and cook at 410 degrees for 20 minutes, or until the dough is golden brown.
After the tart has cooled slightly, top with whole anchovy fillets (about two per slice) and Niçoise olives.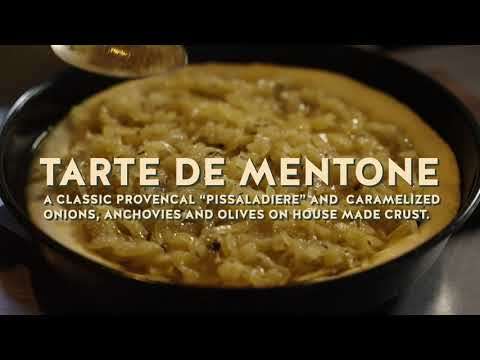 Wines of Provence x Chef's Pairings - Chef Matthew Bowden from Mentone