Recipe ideas


Back to the list
Starter
Asian Tuna with Mango, Avocado and Sesame
Rosé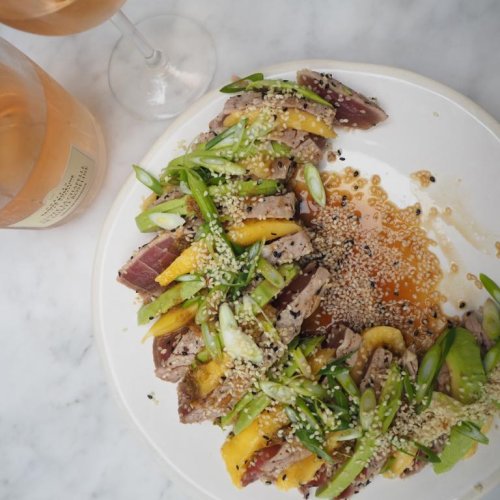 Ingredients
For 2 people:
Half a ripe mango, sliced lengthways into thin 1/2cm slices
Half a large ripe avocado, sliced lengthways into thin 1/2cm slices
260g tuna steak, look for a chunky one, not something too thin, let it come to room temp
1 tablespoon of sunflower oil
2 tablespoons of white and black sesame seeds
1 spring onion, thinly sliced at an angle for garnish
Sea salt and black pepper
Direction
Prepare the mango and avocado and put to one side.
Set a frying pan to a medium to high heat and add the tablespoon of sunflower oil to warm.
Season the tuna fillet with salt and pepper and place into the pan to fry for 30 secs on one side. Use tongs to turn the steak over and sear the other sides, cooking for another 30-40 seconds in total.
Place the tuna on a plate to rest for 2 minutes.
Then add sesame seeds on a separate plate and place the tuna on top.
Coat tuna in seeds.
While the tuna rests you can add all the dressing ingredients together into a bowl and mix.
Taste to check the seasoning. Use a sharp serrated knife to cut the tuna lengthways into 1cm slices. It should be rare in the middle.
Make sure you slice carefully to keep the pieces neat.
How to serve
Now assemble everything together on a dish starting with the smallest avocado slice, then the smallest mango slice and the smallest tuna slice. Continue alternating between them all trying to keep the sizes equal. Serve with half the dressing drizzled on top and leave the rest to drizzle some extra on the plate.