Back to the list
Dish
Roasted aubergines with smoked paprika in yoghurt sauce
Rosé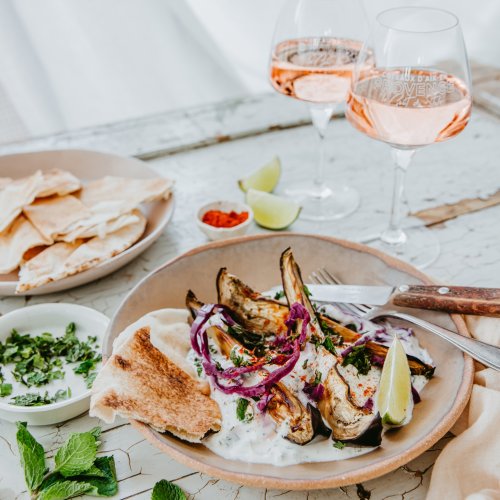 Ingredients
4 small aubergines
3 Greek yoghurts
Pita bread
2 small garlic cloves
Pickled red cabbage
2 small limes
½ bunch fresh mint Smoked paprika
Olive oil
Salt and pepper lightly
Direction
Cut the aubergines in half lengthwise and score them diagonally.
Brush them with olive oil. Dust with smoked paprika. Salt lightly.
Arrange them on a baking sheet, face up. Bake for 20-30 minutes at 180°C.
For the yoghurt sauce, mix the Greek yoghurt with the peeled and finely chopped garlic cloves, the juice from the limes and the rinsed and chopped mint leaves.
How to serve
Apply a coat of yoghurt sauce in the centre of each plate and arrange the aubergines on top.
Add the pickled red cabbage.
Serve with pita bread.