Recipe ideas


Back to the list
Dish
Veal chop with hazelnut crust, tagliatelle with vegetables, rosemary and olives juice
Rosé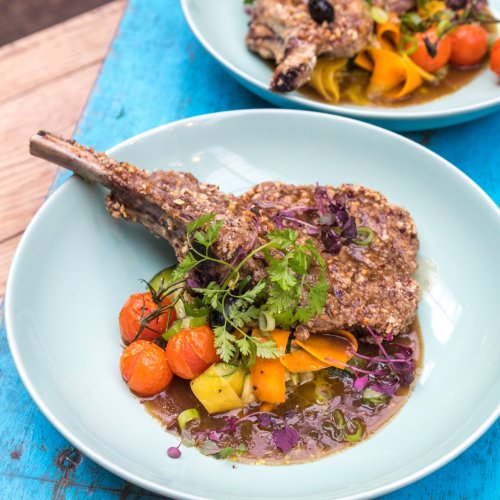 Ingredients
2 nice veal chops from your butcher (about 200g per pers.) 50g of hazelnut powder 50g crushed or chopped hazelnuts 2 yellow carrots 1 orange carrot 1 zucchini 1 small clove of garlic A veal stock 2 branches of rosemary 6 pitted black olives Salt and pepper from the mill
Direction
• Salt and pepper the veal chops and grasp them on both sides. • Roast the powdered hazelnut mixture and crush on a baking sheet at 180 ° C until the mixture is colored. • Bread the veal chops in the roasted mixture and reserve them.
** Prepare the juice: ** • In a Dutch oven, pour your veal stock and infuse the two branches of rosemary and olives. • Arrange the seasoning.
** Vegetable tagliatelle: ** • Wash and peel the carrots (let the skin of the zucchini) and, with a mandolin (or thrifty), make tagliatelle in the length of the vegetable. • In a skillet, cook vegetable tagliatelli for a few minutes in olive oil and crushed garlic.
** Cooking: ** • Put both sides of veal on a baking sheet in the oven at 180 ° C preheated in advance. Depending on the desired cooking: dew = between 3 and 5 minutes; at point = between 5 to 8 minutes.
How to serve
• In a deep plate, arrange the tagliatelle in the bottom of the plate. • Put the veal chop on the vegetables, sprinkle the juice prepared upstream. • Salt and pepper.