Recipe ideas


Back to the list
Dish
PORK TENDERLOIN WITH APPLES
Recipe by WWW.LESPEPITESDENOISETTE.FR
Red wine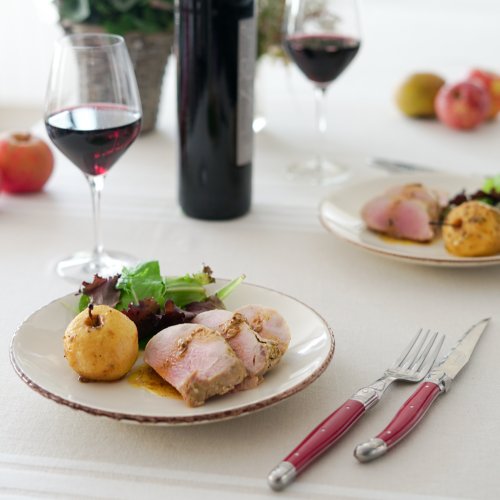 Ingredients
• 1 pork tenderloin (about 600g)
• 4 apples
• 4 tablespoons liquid honey
• 30g butter
• 2 teaspoons curry powder
• 1 tablespoon herbs of Provence
• Salt, pepper to taste
Direction
Preheat the oven to 350°F
Peel the apples.
In a pan, on low heat, melt the butter with honey.
Add curry powder, herbs of Provence, salt and pepper to taste, and stir.
Place the tenderloin in an oiled oven-proof dish.
Add apples and baste tenderloin and apples with honey mixture.
Bake for 30 to 40 min, depending on tenderloin weight (cover while baking if needed).
Let the meat rest for 5 to 10 minutes before cutting.