Recipe ideas


Back to the list
Starter
Milli Taylor's Chicken, King Prawn and Chanterelle Gyoza Served with a soy sauce and rice vinegar dip
Vins de Provence's UK wine expert David Kermode says, "Vins de Provence rosé is a revelation with Asian cuisine, with the enchanting aromatics and refreshing red-fruit crunch of the wine working in harmony with the dish, while the delicate layers of texture unfold around the subtle savoury spices."
Rosé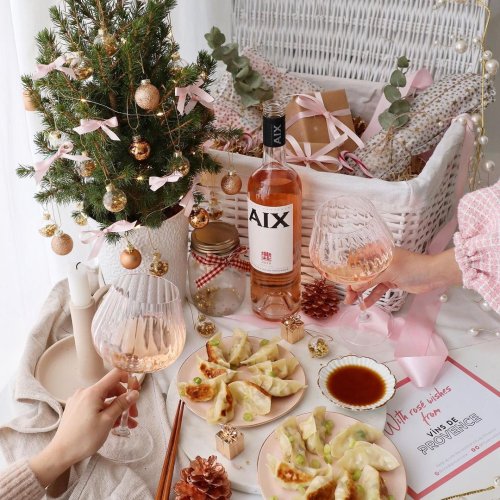 Ingredients
For the Gyoza 1 pack of gyoza dumpling wrappers 100g pointed cabbage 2 teaspoons fine sea salt 100g (1x) free range skinless and boneless chicken thigh 100g raw king prawns 1/2 teaspoon minced ginger 1 spring onion 1/2 teaspoon white pepper 1 teaspoon sesame oil 40g chanterelle mushrooms 2 tablespoons neutral oil
For the Dip 2 tablespoons soy sauce 2 tablespoons rice vinegar
Direction
1 Finely shred the cabbage and pop into a large bowl. Sprinkle over the salt and toss a little through your fingers. Leave for 30 mins whilst you prepare the rest of the filling.
2 Cut the chicken and prawns into small dices and add to another large bowl. Grate in the fresh ginger and add the pepper and a finely sliced spring onion.
3 Give the mushrooms a little clean with a dry brush or piece of kitchen towel, roughly chop and fry in a hot pan for about a minute, with the sesame oil before letting cool on a plate.
4 Lift the cabbage out of the bowl and squeeze it over a sieve in one hand.Keep squeezing hard until all the water comes out. Add to the filling bowl with the cooled mushrooms, mix well.
5 Now to fill the dumplings! Take a gyoza wrapper out the pack (keep the rest covered so they don't dry up) and hold it in your hand. Dip a finger in a bowl of water with the other hand, and run it around the edge of the wrapper, now add a teaspoon of filling to the middle of the wrapper. Gently pleat the dumpling and press firmly making sure there is no air left inside.
6 In two batches, cook your gyoza. Start with a non-stick frying pan on a medium heat and add a tablespoon of oil. Place the dumplings into the pan, it's okay if they're touching a bit. After about a minute, the bottoms will be crispy and golden. Carefully add about 4 tablespoons of water to the pan and quickly pop a lid on top to steam the dumplings until the skins are translucent, about 3 minutes.
7 Mix the soy and vinegar together in a dipping bowl and transfer the gyoza onto a plate to dip and eat.