Recipe ideas


Back to the list
Dish
Roasted red seabream on a bed of vegetables from Provence
Rosé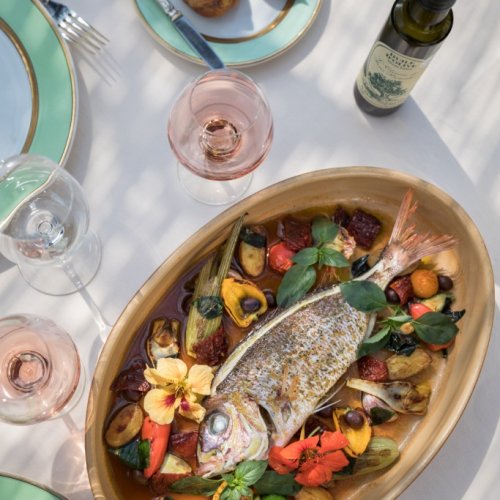 Ingredients
** Main elements: **
Locally fished red seabream (600 / 800g.)
Seasoning elements of the fish:
Bouquet of basil, parsley and fresh thyme
Olive oil
Finely chopped dried rosemary
Chopped dried orange zest
salt & pepper
** Elements of the juice: **
Tomato wedges (500g.)
Garlic (5 cloves)
Fennel (50g)
Tarragon (few branches)
Olive oil
Finishing elements:
Black olives
Dried tomatoes
Basil
** Elements of the filling: **
Potatoes (6 halves)
Mini fennel (4)
Artichokes poivrades (4 halves)
Marrow Flowers (4)
Cherry tomatoes (8)
Mini peppers (4 halves)
** Decoration elements: **
Nasturtium flowers
Basil basics
Direction
** Make tomato juice: ** Heat all the elements of the juice with the olive oil, add the tomatoes, cover tightly and bake at 170 °. At the end of cooking, sift the juice, add finishing elements and season.
** Prepare the red seabream: ** Dress the red seabream, empty it by the belly by making a small incision. Season it inside and outside.
** Cooking vegetables of the filling: ** Simultaneously roast the marrows, artichokes, fennel and cherry tomatoes with olive oil separately (180 °). The potatoes will be roasted the same with the cloves of garlic.
** Cooking the pageot: ** Cook the fish in a plate with olive oil in a moist oven (180 °).
How to serve
In a dish, place the fish, harmoniously arrange the various vegetables around the fish. Sprinkle with tomato juice and a large drizzle of olive oil. The fish should be cut into the dressing dish so that the fish juices mix with the tomato juice.