Recipe ideas


Back to the list
Dessert
Roasted peach with saffron on a caramel crisp
Rosé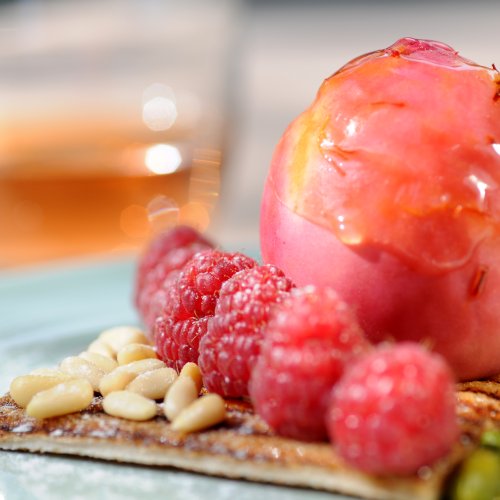 Ingredients
8 thin slices white sandwich bread, no crust
90 g sugar
35 g whipping cream
40 g pine nuts
40 g pistachios
4 verbena leaves
4 medium-sized white peaches
250 g raspberries
1 pinch of saffron pistil
15 g butter
4 slices gruyère cheese
Direction
Make caramel with 50 g sugar, 20 g water. Heat until brown, the immediately pour in the whipping cream away from the flame, stirring continuously with a whisk. Put the pine nuts and pistachios together in a non-stick pan, with 20 g sugar, and roast until golden, then cool right away. Peel the peaches like tomatoes (under warm water or by steam), then roast in 20 g sugar, 20 g butter and a pinch of saffron pistil (or powder). After browning, add 15 cl water and infuse with verbena leaves. Remove the leaves before serving.
Spread the cold, soft caramel on four slices of white bread. Arrange the thin slices of gruyère and place the other slices on top. Grill in a sandwich toaster.
How to serve
Place the roasted peach on the caramel crisp, arrange the raspberries, pistachios and pine nuts, then drizzle with the drippings.