Recipe ideas


Back to the list
Dish
BUTTERNUT AND PORCINI MUSHROOMS RISOTTO
Recipe by WWW.LESPEPITESDENOISETTE.FR
Rosé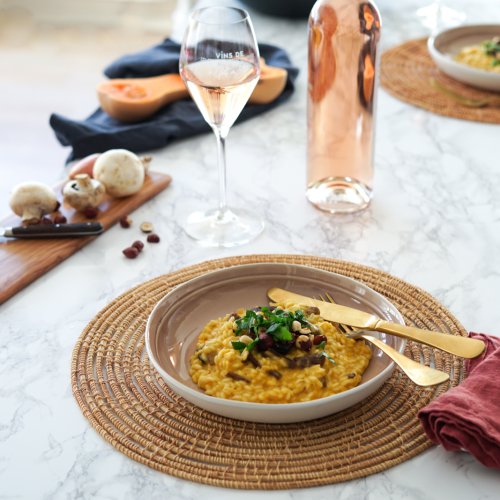 Ingredients
• 250 g Arborio rice
• 1/2 butternut
• 35g dried Porcini mushrooms
• 1 scallion
• 1 cube vegetable or chicken broth
• 1 glass of Provence rosé wine
• 30g hazelnuts
• 1 garlic clove
• 1 tablespoon heavy cream
• Optional: a few tablespoons freshly grated Parmesan cheese, a touch of chives or parsley.
Direction
1 Preheat the oven to 392°F. 2 Soak the Porcini mushrooms in very hot water for 30mn. Drain and slice them if needed. 3 Pour 70cl simmering water over the cube of broth. Stir to dissolve. 4 Remove the seeds of the butternut. Place in an oven-proof dish, add salt, pepper, drizzle with olive oil and cook for 30 minutes until tender (depending on the size of the butternut adjust cooking time). 5 In a blender mix the butternut flesh (add a little water if needed) and keep 200g of the purée. 6 Peel and thinly slice the scallion. Sauté the scallion in a pan with a drizzle of olive oil. Add the rice, simmer and stir till it becomes pearly, about 3 mn. 7 Add the wine and let evaporate stirring constantly with a wooden spoon. 8 Add the butternut purée, and pour the broth little by little while stirring. 9 Lightly salt and pepper when half cooked. 10 Meanwhile, in a pan without fat, roast the crushed hazelnuts. 11 In another pan with a little oil, fry the Porcini mushrooms with the minced garlic. Add salt and pepper. 12 Risotto is cooked when the rice is soft and creamy, still slightly crunchy (at about 20mn cooking time), taste the rice to check. 13 If cooked, add 3/4 of the Porcini mushrooms, heavy cream and a little Parmesan cheese. 14 Place the risotto in shallow plates, add the rest of the Porcini mushrooms, hazelnuts and parsley. 15 Enjoy immediately!
How to serve
For even more flavor, add in your risotto a little of the water poured over Porcini mushrooms.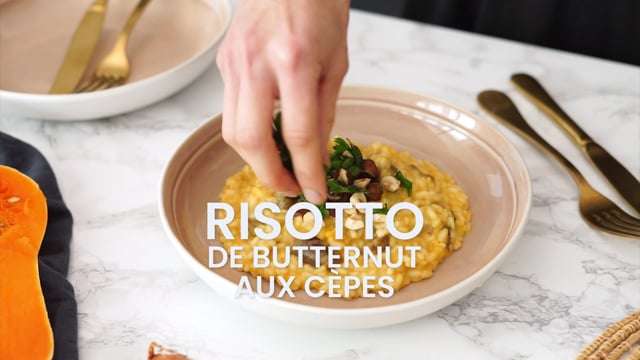 Risotto de butternut aux cèpes