Recipe ideas


Back to the list
Dish
POTATO RÖSTI WITH SMOKED TROUT AND WASABI CREAM
**Recipe by WWW.LESPEPITESDENOISETTE.FR **
Rosé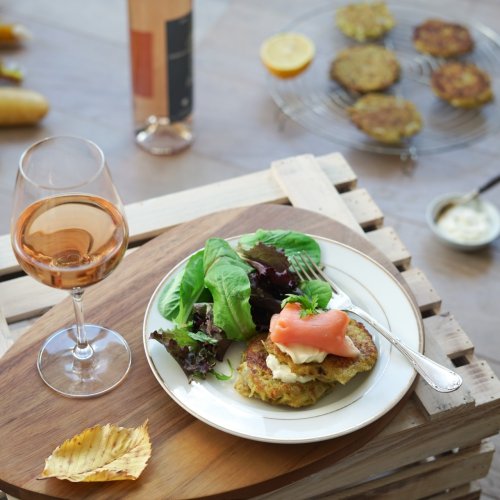 Ingredients
For the Röstis
• 1 onion
• 500g firm flesh potatoes
• 1 tablespoon cornflour
• 2 eggs
• Salt & freshly ground pepper to taste
• 4 large smoked trout slices
For the wasabi cream
• 4 tablespoons heavy cream
• 1/2 teaspoon wasabi paste
• 1/2 lime
• Sprigs of dill, to taste
Direction
Prepare the röstis: finely chop the onion. In a pan with a dash of olive oil, sauté for 3 minutes.
Peel and grate the potatoes.
In a bowl, combine onion, potatoes, beaten eggs, salt and pepper to taste.
Heat a pan on high heat. Pour a large spoon of the preparation and cook for 5 to 10 minutes, until the rösti is golden brown on both sides.
Prepare the wasabi cream: in a bowl mix wasabi paste with 1 teaspoon heavy cream, until wasabi is dissolved. Add the rest of the cream, lemon juice, salt and pepper to taste.
Serve the rösti topped with heavy cream and strips of smoked trout.
How to serve
You can add vegetables to the grated potatoes: carrots, panais….