Recipe ideas


Back to the list
Starter
Caramelized aubergine rolls with clotted goat cheese, petit-gris escargots and breadsticks
White wine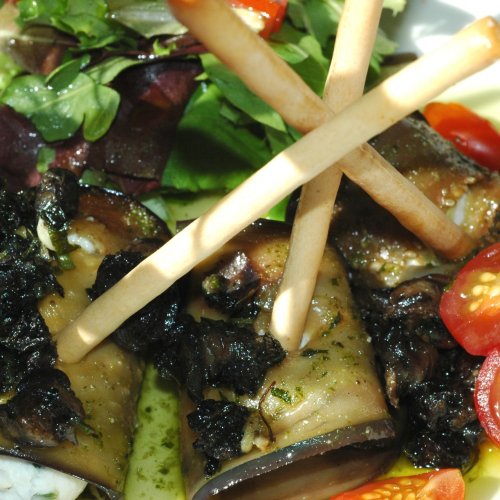 Ingredients
1 kg mixed greens
1 tin petit-gris escargots (6 per person)
6 aubergines
6 garlic cloves
1 bunch chives
1 bunch parsley
1 bunch scallions
1 bunch basil
1 kg clotted goat cheese
½ litre single cream
¼ litre olive oil
30 g pine nuts
Salt and pepper
Thin breadsticks
Direction
Make "pistou" with the pine nuts, 3 garlic cloves, bunch of basil and olive oil. Blend and set aside. Cut thin slices of aubergine lengthwise and brown in a frying pan with a dash of olive oil. Once they are slightly coloured, place them on a paper towel and set aside.
To make the clotted goat cheese with herbs: In a large bowl, add the clotted goat cheese, single cream, 3 chopped garlic cloves and chopped herbs. Mix it all together and season with salt and pepper and a little pistou, until you have a very smooth, creamy texture. Set aside.
Roll the aubergine slices: Place a slice of aubergine on a plate and stuff it with clotted goat cheese by rolling it. Do this with each slice (plan on 3 per person).
Prepare the escargots: Place the escargots in a saucepan (without the shells) with the pistou and brown for 3 to 5 minutes.
How to serve
Wash the mixed greens and arrange the plates: On each plate, place a handful of mixed greens, then 3 aubergine rolls on top and lastly the warm escargots. Garnish with 2 breadsticks. Serve.