Recipe ideas


Back to the list
Dish
WARM GOAT CHEESE SALAD WITH SPICED BREAD
recipe by WWW.LESPEPITESDENOISETTE.FR
Rosé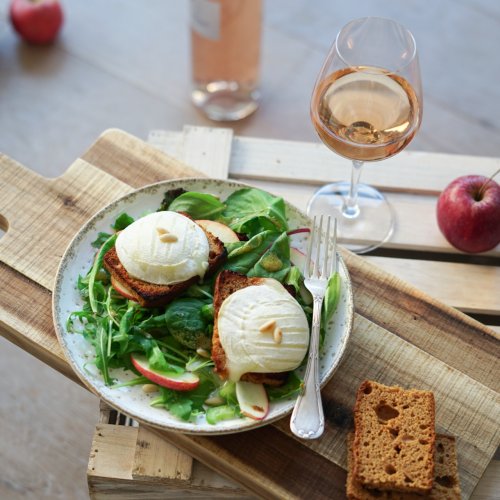 Ingredients
For the salad
• 150g baby spinach
• 100g aragula
• 2 apples
• 2 tablespoons lemon juice
• 2 celery stalks finely chopped
• 8 Rocamadour goat cheeses
• 40g pine nuts
• 8 thin slices of spiced bread
For the dressing
• 5 tablespoons extra virgin olive oil
• 2 teaspoons mustard
• 1 pinch of herbs of Provence
• 2 tablespoons cider vinegar
• Fleur de sel, pepper to taste
Direction
Wash baby spinach and aragula. Mix together and divide on 4 plates.
Slice apples and drizzle with lemon juice. Place on salad with pieces of celery stalks.
Roast pine nuts in a pan, without adding fat, until slightly golden. Let cool and add to salad.
Prepare the dressing: stir together mustard with herbs of Provence and vinegar. Add olive oil, a pinch of Fleur de sel and pepper and mix well.
Preheat the grill of the oven.
On each slice of spiced bread, add a Rocamadour goat cheese, and grill for a few seconds until cheese is slightly melted and golden.
Dispose on salad and pour the dressing on top.
How to serve
To enhance flavor, add a touch of walnut or hazelnut oil to your dressing. For even more flavor, spread a little mustard or garlic butter on the slices of spiced bread before adding Rocamadour cheese and grilling.