Recipe ideas


Back to the list
Dish
Bluefin tuna and heirloom tomato tartare with parmesan shavings and truffle oil
White wine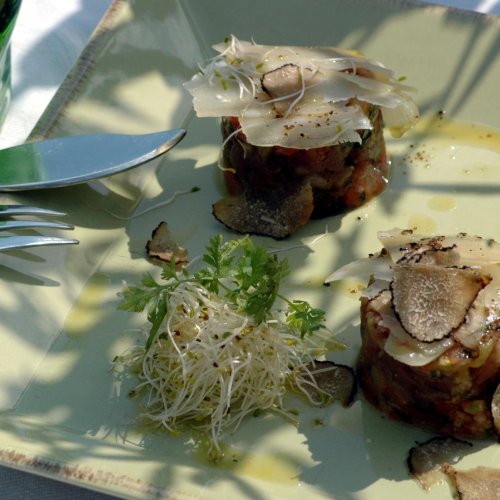 Ingredients
300 g bluefin tuna, marinated in olive oil and fresh garden herbs
400 g heirloom tomatoes (such as oxheart, pineapple or green zebra), trimmed and seeded
2 pieces snipped shallot
50 g soft parmesan shavings
In sufficient quantities:
Basil, fresh tarragon and hulled thyme leaves
Table salt, pepper mill and madras curry
Virgin olive oil
Juice from 1 fresh lemon
½ punnet lucerne sprouts
Direction
Dice the tuna into small, even cubes, as well as the tomatoes. Season the tuna with salt, pepper and curry. Add chopped tarragon, a little shallot and a dash of olive oil, finishing with a little lemon juice. Adjust the seasoning to your taste.
Mix the diced tomatoes with the shallot, salt, pepper, chopped basil and hulled dried thyme. Make sure the tomatoes have been fully dried.
How to serve
Arrange a layer of tuna tartare in round stainless steel moulds, then add a layer of tomato tartare. Repeat until the moulds are full.
Arrange on each plate, with some lucerne sprouts. Add grated summer truffles, parmesan shavings and the mixture of olive oil, lemon juice, chopped truffles and seasoning.