Recipe ideas


Back to the list
Rosé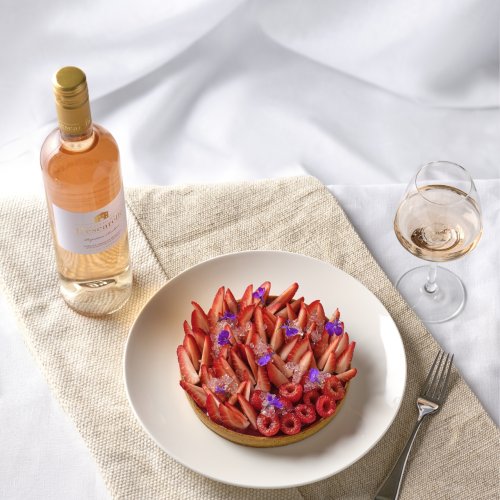 Ingredients
FRENCH EARL GREY TART SHELL
21/2 cups (375g) flour 80g caster sugar 6g French Earl Grey tea, blended to a fine powder 200g chilled unsalted butter, chopped 1 egg, plus 1 yolk 50g white chocolate, melted
RUBY CREMEUX
150ml milk 150ml thickened cream 2 eggs 10g caster sugar 200g ruby chocolate
BERRY COMPOTE
100ml rosé 150g raspberries, halved 150g strawberries, hulled and quartered 50ml lemon juice 80g caster sugar 2g pectin NH (from specialty food shops)
ROSÉ JELLY
1 cup (250ml) rosé 50g caster sugar 3g agar (from specialty food shops)
GARNISH
Fresh strawberries, hulled and quartered Fresh raspberries, halved Micro mint leaves, if desired
Direction
FRENCH EARL GREY TART SHELL
Preheat oven to 175°C. Line a baking tray with baking paper and place a 15cm x 20cm tart ring on top. Sift dry ingredients into the bowl of a stand mixer with the paddle attachment. Add butter and beat on low speed until a sandy mixture. Add egg and yolk and 1 tbs water and beat until a dough forms. Transfer dough onto a lightly floured surface. Shape dough into a ball and wrap in plastic wrap. Refrigerate for 1 hour then roll out into a 5mm-thick x 30cm circle. Drape the dough sheet over the tart ring and gently push into the base and side, trimming edges with a small knife. Prick the pastry base with a fork and line the pastry with baking paper. Fill with uncooked rice grains. Blind bake for 15 minutes then remove the rice and paper. Bake for a further 15 minutes or until golden. Remove ring and set pastry case aside to cool completely. Once cool, brush the inside with melted chocolate.
RUBY CREMEUX
Place milk and cream together in a pan and bring to the boil. Meanwhile whisk eggs and sugar together until light and fluffy. Whisk hot cream mixture into the egg mixture, then return to heat until it reaches 83°C. Mix in ruby chocolate and, using a sieve, strain mixture into a heatproof bowl. Allow to cool completely, overnight if possible, then transfer to a piping bag.
BERRY COMPOTE
Place rosé, berries, 85ml water and lemon juice into a pan and cook for 8 minutes or until berries break down. Whisk sugar and pectin together then whisk into the berry mixture. Bring compote to the boil. Remove from heat and transfer to a heatproof bowl. Once completely cool, transfer to a piping bag.
ROSÉ JELLY
Combine all ingredients together in a pan with 50ml water and whisk over high heat until mixture boils. Transfer to a heatproof bowl and allow jelly to set. Remove jelly from bowl and cut into 5mm cubes.
GARNISH
Fresh strawberries, hulled and quartered Fresh raspberries, halved Micro mint leaves, if desired
How to serve
Pipe the ruby cremeux into the pastry case until it reaches 1cm in height. Refrigerate for 15 minutes then pipe the compote on top of the cremeux, leaving a 5mm gap from the edge. Fill the rest of the tart with berries, scatter over tablespoonfuls of cubed jelly, and garnish with mint leaves.