Recipe ideas


Back to the list
Starter
Sardine and pesto tart
Rosé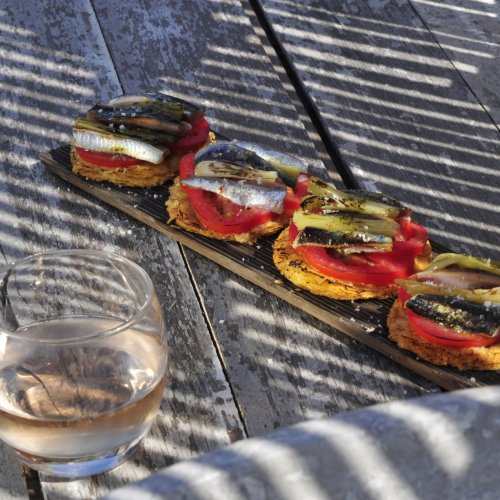 Ingredients
230 g puff pastry
2 Roma tomatoes
2 tbsp strong mustard
4 sardine fillets
2 tbsp pesto
Salt and ground pepper
Caramelized scallions:
4 scallions
2 tbsp olive oil
1 tsp thyme, shredded
1 tsp rosemary
1 garlic clove, pressed
Direction
Wash the scallions and cut them in two. Put them in a deep frying pan with all of the ingredients for the caramelized scallions. Season, cover, reduce flame and let cook for 15 minutes.
Place the puff pastry on a non-stick baking sheet, poke holes with a fork and place in the oven, preheated to 180°C, for 15 minutes. Let cool.
Cut out four circles and place them on the sheet. Brush with mustard. Add sliced tomatoes and top with sardines and caramelized scallions, then place in the oven, preheated to 210°C, for 10 minutes.
How to serve
Serve hot with a drizzle of pesto.