Recipe ideas


Back to the list
Starter
Warm Winter Provencal Salad with Herb infused Olive Oil
Rosé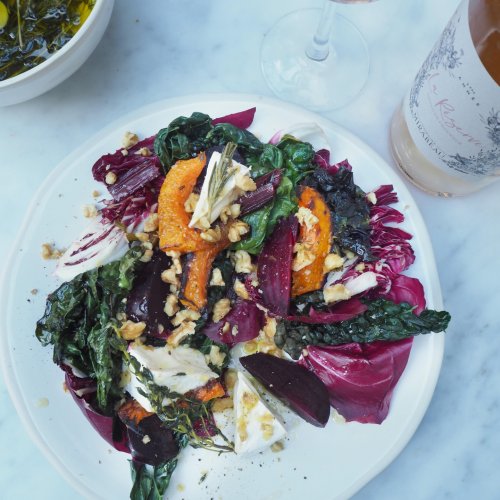 Ingredients
For 4 people:
2 cooked beetroot
1 radicchio, leaves torn
1 small butternut squash, peeled, deseeded and cut into 1cm pieces
100g cavolo nero, leaves torn off stems
180g rainbow chard, leaves and stems separated
200g goat's cheese
2 handfuls of walnuts
For the dressing:
200g extra virgin olive oil
1 handful of rosemary
1 handful of thyme
1 chunky garlic clove, halved
3 tablespoons of white wine vinegar
1.5 teaspoons of honey
zest of half a lemon and 1-2 tablespoons of juice
salt and pepper
Direction
Add the olive oil, rosemary, thyme and garlic to a small saucepan and set to a low heat. Let it infuse for 10 mins and then take off the heat. Preheat the oven to 190°C and prepare two baking trays. Add the chard and cavolo nero (keeping the chard stalks in one place) into one and the chopped squash into the other. Drizzle over 3 tablespoons of the infused olive oil on top of the veg. Season with salt and pepper and roast green leaves for 5-6 mins, the stalks for 12 mins and 30 mins for the butternut squash.
How to serve
In a bowl add 9 tablespoons of infused olive oil, the vinegar, honey, lemon zest and juice, plus a good pinch of salt and pepper. Mix and check the seasoning. Plate up and drizzle over the dressing!