Recipe ideas


Back to the list
Dish
Lobster salad with candied pink grapefruit, vinaigrette of carrots, orange and ginger
Rosé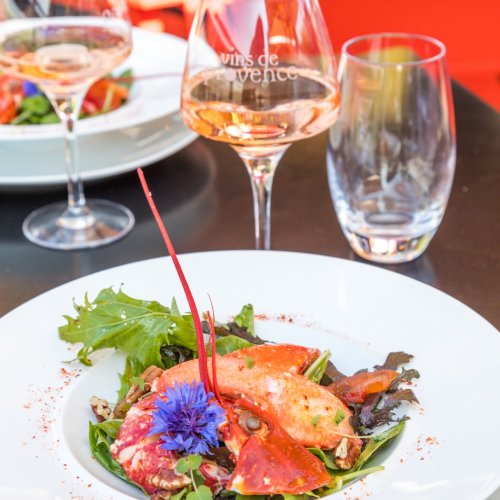 Ingredients
2 blue lobsters of about 500g each Short broth (bouquet garni, lemon, salt, pepper)
** Candied Grapefruit: ** 1 pink grapefruit 2dl of water 200g caster sugar Star anise (x2) Cloves (x4)
**Vinaigrette : ** 3dl of carrot juice 3dl of orange juice The zest of an orange 10g of fresh ginger 1 tablespoon white vinegar 2 tablespoons olive oil
Salad : 50g of mustard shoots 50 g of Red Chard shoots 50 g of Mizuna shoots
Direction
** Candied Grapefruit: ** ● Cut the grapefruit into 4. ● To whiten the peel: put them in a saucepan, cover with cold water, bring to a boil, and from the first bouillons, discard the cooking water. Repeat the operation 15 times. ● Bring the mixture "water, sugar and spices" to a boil, then immerse the quarters. Leave for at least 30 minutes, then let stand.
Tip Chef: in a sheet of parchment paper, cut a round the size of the pan and place it on the quarters to avoid evaporation during cooking.
Vinaigrette : ● Detail the ginger in julienne. ● Reduce the mixture "carrot juice, orange juice, ginger and orange peel" by half. Let cool, then add the oil and vinegar.
** Lobster: ** ● Dip whole lobsters in a simmering broth, and cook for 6 minutes. ● Let cool and then peel.
How to serve
● In a plate, arrange the young shoots, lobsters and candied quarters cut into thin slices, and drizzle with the vinaigrette. ● Sprinkle with roasted and crumbled cashews.