Back to the list
Starter
SALMON CEVICHE WITH COCONUT MILK
Rosé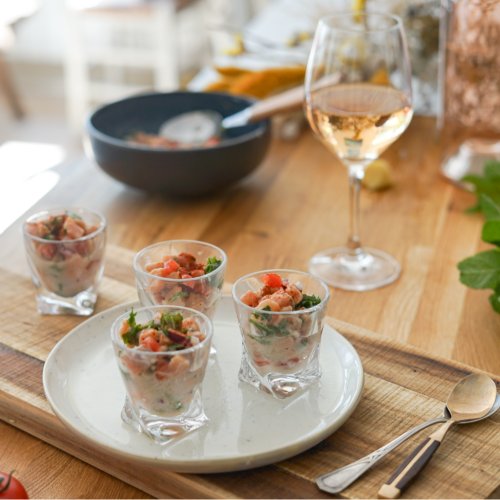 Ingredients
600g salmon
15cl coconut milk
2 limes
3 cm fresh ginger
1 red onion
1 tomato
Chopped coriander
Salt and Pepper
Espelette chilli pepper
Direction
• Dice the fish into small pieces.
• Peel and grate the ginger. Zest the limes and squeeze the juice.
• Put the fish in a salad bowl and add both the lime juice and zest. Mix in the grated ginger, coconut milk, salt, pepper, and then mix. Let it marinate in the fridge for 20 minutes.
• While you wait, wash the tomato and thinly dice it. Peel and thinly slice the onion. Wash, dry and chop the coriander.
• After 20 minutes, take the marinated fish mix out of the fridge and add the onion and the tomato.Add the finely chopped coriander and Espelette chili pepper on top, serve immediately!
You can also make this with other types of fish: fresh sea bass or tuna for example.
How to serve
For a tropical touch, add in a couple of spoonfuls of passion fruit pulp.