Back to the list
Dish
SCRAMBLED EGGS WITH ASPARAGUS
Rosé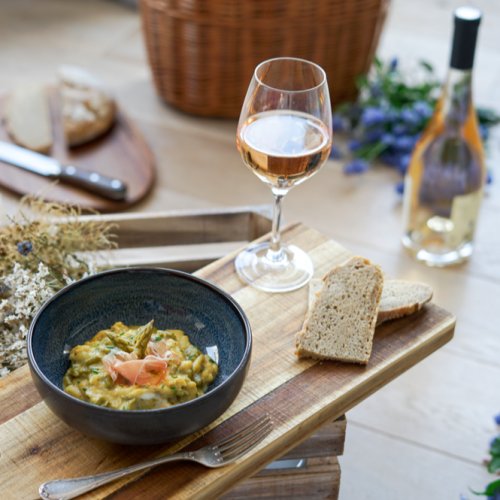 Ingredients
4 eggs
1 shallot
1 tbsp sour cream
1 bunch green asparagus
1 tbsp finely chopped parsley
Optional: cured ham or smoked salmon
Direction
• Wash and peel the asparagus stalks. Cut off the hard ends.
• Steam them for 10 minutes, or simply fry in a frying pan with a dash of olive oil.
• Keep the tips whole and chop up the stalks.
• Brown the finely chopped shallot in a frying pan with a knob of butter. Set aside.
• In the same frying pan with a knob of butter, pour the eggs (not scrambled), and mix constantly on a low heat until they thicken slightly (this takes about 5 minutes).
• Take off the heat and incorporate the fried shallots, asparagus stalks, parsley, salt and pepper.
• Mix together and serve.
How to serve
Serve straight onto your plate and decorate with the asparagus tips and some cured ham or smoked salmon if you so wish.