Back to the list
Les Rosés de Provence. Born original. Made distinct.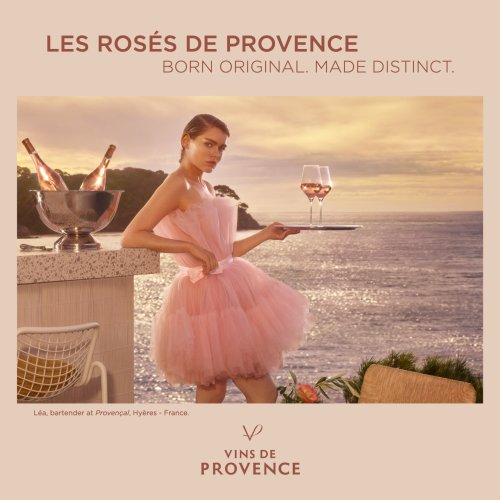 A new advertising campaign for Vins de Provence. Conceived by the Parisian agency Jésus et Gabriel, it is deployed in France and abroad.
The campaign consists of a series of three aspirational, modern and very premium visuals, showing a woman and two men from the new generation of bartenders, photographed in bars and restaurants in Provence to highlight the origin of Rosés de Provence.
It is the first milestone in the premium brand strategy promoted by Provence Wine Council, which aims to consolidate the leadership of Provence Wines in the rosé wine category.
The photo shoot was entrusted to photographer Philippe Jarrigeon, who usually works in the world of music and fashion. Internationally renowned, he has collaborated with artists such as Katy Perry, Pharrell Williams and Snoop Dogg, as well as with major fashion houses such as Chanel, Dior, Hermès, Salvatore Ferragamo, Cartier, Chloé, Kenzo, Baccarat and Jean-Paul Gaultier. His photos have also appeared in numerous magazines around the world: Dazed, Double, Purple, Vogue, W Magazine, M Le Monde…
The new campaign is deployed in France and abroad (press, poster and digital).