Back to the list
Dessert
Roasted figs in Provence honey with chestnut honey ice cream
Red wine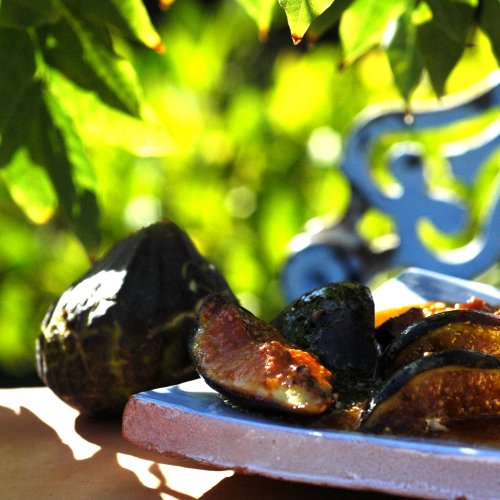 Ingredients
20 Solliès-Pont figs
250 g sugar
250 g honey (125 g to roast the figs, 125 g for the ice cream)
80 g butter
1 untreated lemon
Ice cream:
125 g honey
6 egg yolks
¼ litre milk
¼ litre cream
Direction
We don't always remember that figs roast very well and caramelize wonderfully, once you add a bit of honey. This recipe is a prelude to a nap under a fig tree…
Melt butter in a deep frying pan and heat until golden, then add figs and deglaze with lemon juice. Add sugar, honey and a little water. Roast for about 20 minutes, until caramelized.
Prepare the ice cream:
Heat milk and cream to the boiling point. Pour the boiling-hot liquid with the honey over the blanched yolks. Add to the ice-cream maker for smooth ice cream, then place in freezer.