Back to the list
Dessert
Lemon jelly with Brousse du Rove, sheep milk ice cream, and lime and passion fruit biscuits
White wine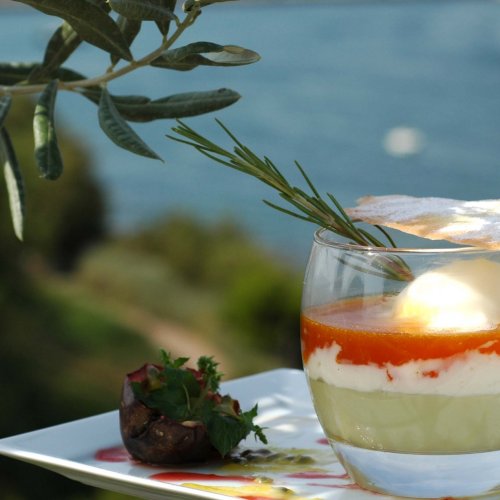 Ingredients
¼ litre sheep milk ice cream
20 cl passion fruit coulis
Brousse mousse:
250 g brousse or clotted fresh goat cheese
3 sheets of gelatin
1 vanilla pod
½ lime zest
5 cl milk
125 g caster sugar
5 egg yolks
25 cl crème fraîche, beaten and firm
Lime biscuit:
70 g butter
100 g caster sugar
60 g flour
2 raw egg whites
1 lime zest
Direction
Not far from Marseille, nearby the Nerthe Chain, the village of Rove is home to a breed of rustic goats that are typical of Provence: they produce high-quality milk that is used to make brousse cheese. Not so long ago, merchants would criss-cross the region to sell this unusual, highly-popular fromage frais.
Prepare the brousse mousse:
Blanch the yolks with sugar, add the brousse, vanilla and lime zest, milk brought to the boil and the sheets of gelatin. When the preparation begins to take, add the whipped cream and refrigerate.
For the lemon jelly, infuse two lemons in 1 litre of water with 100 g caster sugar, strain and add 3 sheets of gelatin. Mould in the bottom of the glasses. The jelly should "shake".
Prepare the lime biscuit:
Mix and spread out on a baking sheet in the desired shape, then cook at 185°C for 6 minutes. Arrangement: Add the mousse on top of the lemon jelly in the glass. Before serving, add the sheep milk ice cream dumpling and the passion fruit juice. Place the biscuit across the glass and half a passion fruit alongside.