Back to the list
Dish
Sea bass ceviche with exotic fruits and Madagascar vanilla by Chef Yoann Gauthier
Recipe by Chef Yoann Gauthier at the Prao Plage restaurant
Côtes de Provence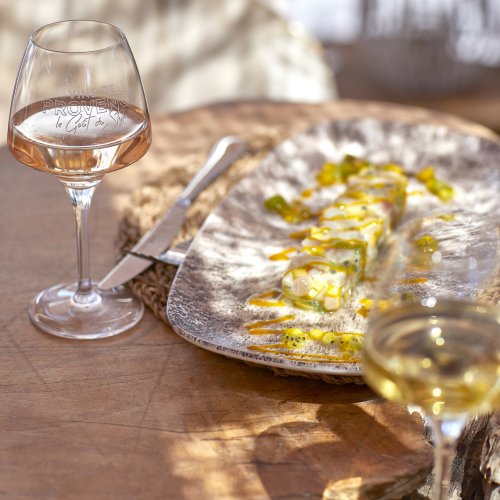 Ingredients
300 g of fresh line-caught bass
1 mango
2 kiwi fruits
2 passion fruits
2 Madagascar vanilla pods
1 lime
1 scallion
200 ml of mango coulis
60 ml of olive oil
Salt, pepper
Direction
• Wash the sea bass and cut the fillets. Then cut the fillets into small cubes and set them aside.
• Cut the mango and kiwi into small cubes.
• Cut the passion fruit in half. Using a spoon, scoop out the seeds and juice in a container.
• Split open the vanilla pod and scrape it with a knife to remove the seeds.
• Squeeze the lime.
• Mix the fish, chopped fruit, vanilla, and lime together in a bowl, pour in the olive oil, add salt and pepper, and set aside 1/4 of the preparation for the vinaigrette.
How to serve
• Use a cookie cutter to place your marinated sea bass cubes, press down with the back of a spoon and remove the cookie cutter
• Add the mango coulis to the preparation that you set aside in step 3. Mix them together and pour the vinaigrette around the sea bass ceviche.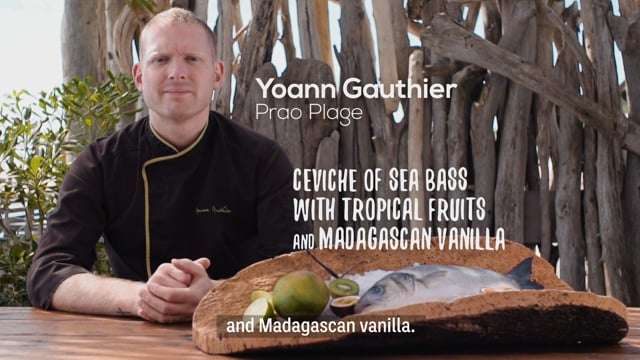 Sea bass ceviche with exotic fruits and Madagascar vanilla