Back to the list
Dish
Mediterranean John Dory, chayote and leeks with saffron, multicolour carrot virgin oil with pomegranate By chef Davy Jobard
Recipe by the chef Davy Jobard from the Le Nid restaurant in Flayosc (83)
Côtes de Provence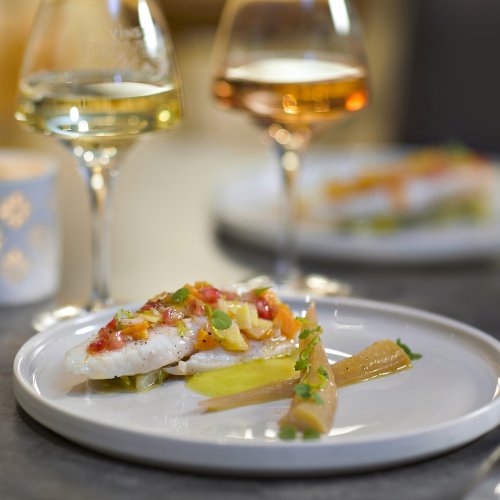 Ingredients
1 filleted Mediterranean John Dory weighing 800g / 1kg
2 chayotes
2 leeks
1 white onion
4 multicolour carrots
1 pomegranate
1 organic lemon
Saffron pistil
Quality olive oil, salt, pepper, calamansi vinegar.
Direction
Fillet the John Dory and remove the skin, keep the fillets in a cool place. Wash and peel the vegetables and onion.
For the jus: In a saucepan, sweat half of the chopped onion in olive oil. Add 1 chayote cut into pieces as well as the green part of the leeks, a zest of lemon and the saffron pistil. Season with salt and cover with water. Leave to cook for 10 minutes and blend.
Garnishes: Steam a chayote and the whites of the leeks cut into cubes. Add salt, pepper, olive oil and the lemon zest.
Slowly caramelise the 4 thin multicolour half carrots with the olive oil, salt and pepper with the lid on and add the juice of half a pomegranate.
Virgin oil: Chop the 2 remaining carrots lengthwise, slice them finely and add the remaining half of chopped onion, olive oil and pomegranate seeds. Season with salt and pepper and add 1 tablespoon of calamansi vinegar.
Cooking the fish: Start cooking in a cold frying pan with olive oil without searing. Season with salt and pepper and bake in the oven for 3 minutes at 180°C.
How to serve
On one side of the plate, arrange the chayotes and leeks in a rectangle. Place the virgin carrot oil and pomegranate on top of this garnish. Finish the presentation with the filet of John Dory and a few young salad leaves. On the other side of the plate, place the caramelised carrots. Place the saffron sauce in the centre of the plate.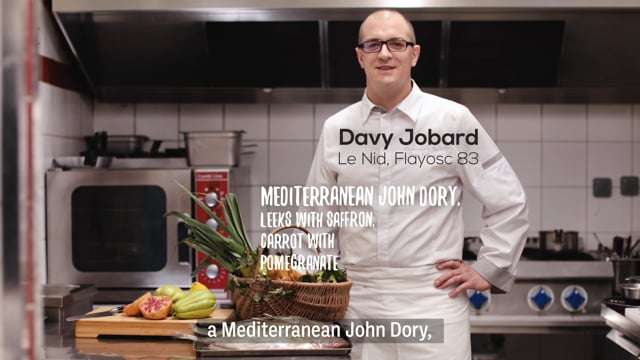 Mediterranean John Dory, leeks with saffron, carrot with pomegranate