Back to the list
Dish
Wild hare à la royale, vegetable casserole with black Provence truffles by chef Mathias Dandine
A recipe by the chef Mathias Dandine from the La Magdeleine restaurant in Gémenos (13)
Coteaux d'Aix-en-Provence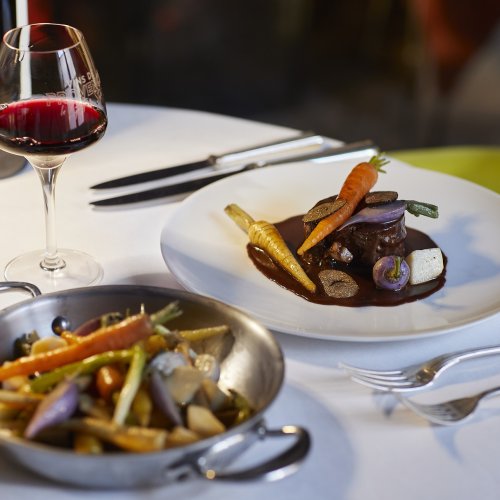 Ingredients
1 hare weighing around 7 pounds
300 g of fresh truffles
Strips of salted fatty bacon
1 fresh foie gras 500g
Black pepper
½ bottle of Port
10 cl of Marc de Provence
Stuffing:
150 g of foie gras
150 g pork throats
150 g pork loin
Sauce:
2 carrots
1 large onion and 1 celery stalk
2 shallots
1 sprig of hillside thyme
A few sprigs of parsley
1 bay leaf
Juniper berry
Hare bones
Freshly-milled black pepper
3 bottles of Côteaux d'Aix red wine
Cloves
Thyme
2 tablespoons of Marc de Provence
Vegetables:
4 topped carrots
4 mini celeries
4 golden ball turnips
4 parsnips
4 salsifies
4 radishes
Direction
The day before: Bone the hare with a very fine knife, leaving the hare whole, starting with the legs, the rib cage, the shoulders, spine and carcass. To avoid piercing the skin, leave some flesh on the bones. Spread the boned hare on its back, flat on a hard work surface and season it with salt, pepper, nutmeg, a few sprigs of thyme and a little marc de Provence. Roll up the hare and leave it to marinate for 12 hours.
Prepare the sauce: Make a garnish with the vegetables and fry them in 3 tablespoons of olive oil with the herbs, add the hare bones. Moisten with the wine and leave to cook for 2-3 hours. Set aside.
On the day: Prepare the stuffing. Chop the 150 g of foie gras, the throat and the loin of pork, put this stuffing in a terrine with salt and pepper and a little of the marinade, mix and keep in a cool place.
Peel an onion and prick it with cloves.
Brush the truffles. Preheat the oven to 180°C.
Carefully rinse a linen tea towel to remove all traces of washing powder.
Preparing the hare: Drain the hare, place it on the worktop and cover the centre with stuffing and bacon strips, and spread. Put the foie gras in the middle of the hare.
Fold the hare on itself, wrap it in cling film and tie the ends. Put the roll in a casserole dish or a stew pot. Fry it lightly and cover it with the sauce. Bring to the boil, lower the heat and leave to simmer for 4/5 hours at 100°C. When it is cooked, drain it and leave it to cool.
Decant the sauce by straining it through a sieve over a saucepan, crushing every part of the sauce to recover the juices.
Place the hare on a chopping board and cut thick slices when hot.
Vegetable casserole: Wash the leaf-topped vegetables and cut them into equal pieces.
Heat a cast-iron pan with a generous splash of olive oil from Provence, sear the vegetables lightly, cover with the lid and cook for 4/5 minutes until they are al dente.
How to serve
Place one rabbit slice on each plate.
Remove the fat from the cooking juices of the hare and add it to the sauce. Bring to the boil and pour over the slices of hare. Grate slices of black truffles.
Serve the hare with the vegetable casserole.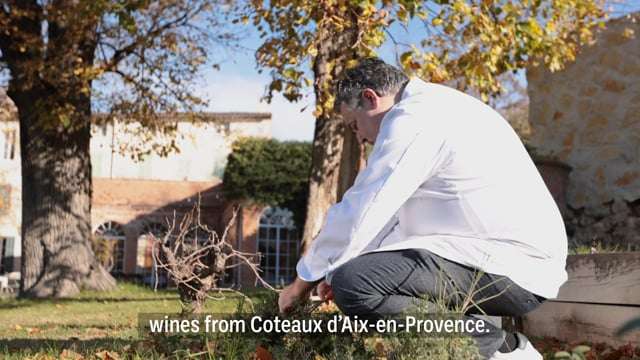 Wild hare à la royale and market-garden vegetable casserole