Recipe ideas

Back to the list
Dish
Mediterranean fish, with stuffed courgette flower, tomato, olive, and basil from the garden by Chef Nicolas Pierantoni
Recipe by Chef Nicolas Pierantoni at l'Hostellerie de l'Abbaye de La Celle
Coteaux Varois en Provence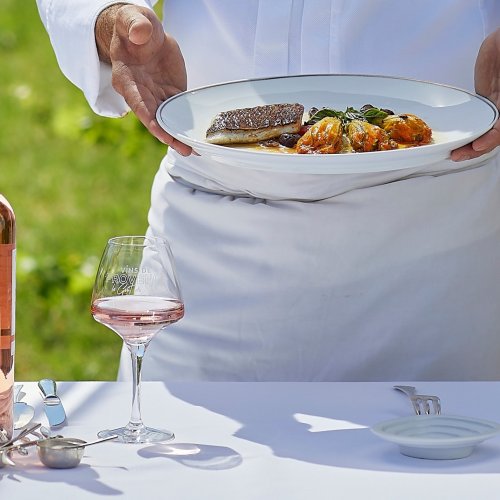 Ingredients
800 gr of porgy
12 courgette flowers
Olive oil
Salt
Pepper
Fresh basil
125 g of black olives in oil and basil from the garden
Stuffing ingredients
4 yellow courgettes
4 green courgettes
2 scallions
2 cherry tomatoes
Direction
Prepare the fish and cut the fillets (this step can be done by your fishmonger).
Prepare the stuffing for the courgette flowers:
Remove the pistil and the green corolla from the flowers, set them aside for later.
Finely chop the courgettes and scallions and slow-cook them in a frying pan with a little olive oil.
Take the vegetable mixture and add some chopped basil.
Stuff the flowers very delicately and gently turn the end to enclose the stuffing.
Blanch and peel the tomatoes, then cut them in half and set them aside.
Season the fish fillets on each side with a pinch of salt and a few twists of pepper. Heat some olive oil in a large pot over medium heat.
Place the fillets skin-side down in the pan, add the stuffed courgette flowers, tomatoes, olives, basil, and leave to cook for a few minutes. When the fish is three-quarters cooked and the skin is crispy, turn it over and continue cooking for a few seconds.
How to serve
Serve the fish skin side up with the tomatoes and olives and garnish each plate with three stuffed courgette flowers.
Mediterranean fish, with stuffed courgette flower, tomato, olive, and basil from the garden