Recipe ideas


Back to the list
Starter
Aubergine Purée (Baba Ganoush)
Rosé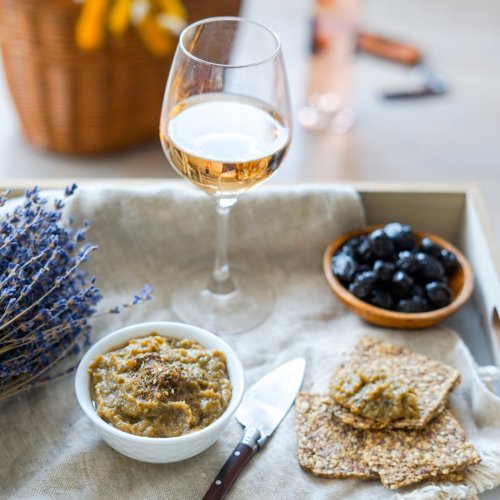 Ingredients
2 aubergines
1 tablespoon thyme
4 tablespoons of olive oil
1 lemon
1 clove of garlic
1 heaped teaspoon of cumin
Optional: 1/2 preserved lemon
Direction
Preheat the oven to 200°C.
Wash and cut the aubergines in half lengthwise.
Prick the flesh all over with the tip of a knife, taking care not to pierce the skin.
Place the aubergine halves on a baking sheet lined with baking paper. Sprinkle with thyme, drizzle with olive oil, salt, pepper and bake for 30 minutes until they are golden and tender.
Allow to cool and scoop out the flesh with a spoon.
In a blender, mix the aubergine flesh with a drizzle of lemon juice, finely chopped garlic, cumin and preserved lemon. Add salt, pepper and 1 or 2 tablespoons of olive oil.
Enjoy as an aperitif, on toast, with tomato carpaccio, grilled fish or chicken!
How to serve
Chef's Tips: This is delicious with a touch of zaatar and fresh strawberries or raspberries.