Back to the list
Dish
Sea bream ceviche with coconut milk
Rosé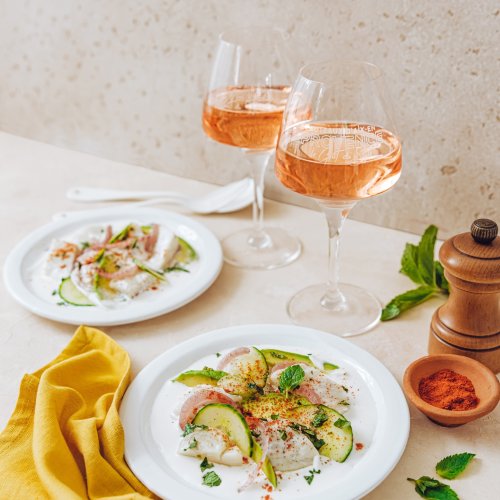 Ingredients
400 g sea bream fillets
4 limes
1 avocado
¼ cucumber
2 small red onions
10 cl coconut milk
Coriander and fresh mint
Chili powder
Salt and pepper from a mill
Direction
• Peel and chop the red onion into thin slices and set aside in a bowl of cold water (to make it less spicy and more digestible).
• Squeeze the limes. Rinse and finely chop a few leaves of mint and coriander. Cut the sea bream fillets into thin slices horizontally and place them in a soup plate with the lime juice and fresh herbs. Refrigerate for 15 minutes while you cut the avocado and the cucumber into thin slices.
• Apply a coat of coconut milk to each plate and arrange the fish, cucumber, avocado and red onion on top. Add salt and pepper, then sprinkle with a little chili powder. Garnish with coriander and fresh mint leaves.
• Serve immediately.