Back to the list
Dish
Smoked Salmon and Dill Cheesecake
White wine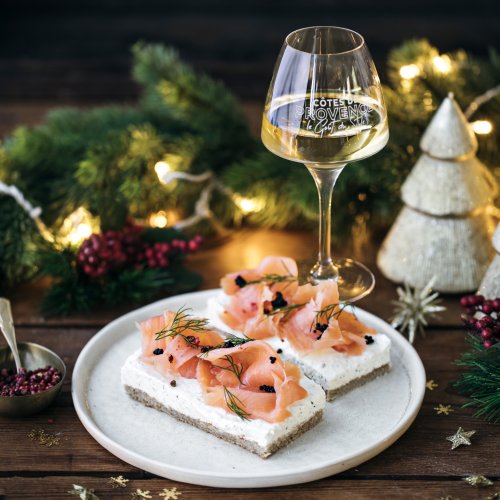 Ingredients
• 1 loaf farmhouse bread • 40 g butter • 500 g cream cheese • 8 slices smoked salmon • 1 lemon • 1 shallot • 1 bunch dill • 4 cl olive oil • 20 g caviar (or fish roe) • 1 pinch Espelette pepper • 10 g pink peppercorn • Fine sea salt & pepper
Direction
Cut the farmhouse bread into slices about 1 cm thick.
Melt the butter in the microwave.
Remove the bread crust, use a brush to butter the bread, pan-fry it for a few minutes on each side in a pre-heated pan, and then set aside.
Mince the shallot and chop the dill.
Mix the cream cheese with the dill, shallot and zest from the lemon, then add the juice from the lemon.
Place the slices of toast in rectangular pastry cutters.
Add the cream cheese filling on top.
Chill for at least 6 hours to give it time to set.
After letting the cheesecake sit, remove it from the refrigerator and garnish evenly with the smoked salmon (cut into thin strips).
Sprinkle lightly with caviar, a few sprigs of dill and the crushed pink peppercorn.
Bon appétit!