Recipe ideas


Back to the list
Starter
Almond shell tapas
Rosé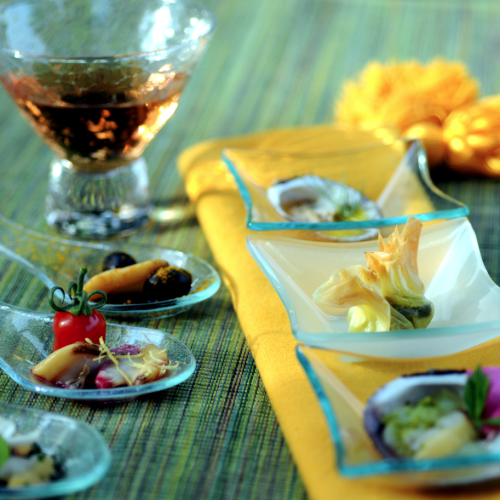 Ingredients
28 almonds
20 cl olive oil
1 lemon
Green cardamom powder
Curry
Cumin
Basil
Chives
Dill
Rocket
Olives
Pink pepper
Szechuan pepper
60 g courgette
30 g onion
1 sheet of filo dough
Small cherry tomatoes
Salt and pepper
Direction
Open the almonds with a knife. If they are too hard to open, heat them over a flame. Remove the flatter shell, wash the other one and the almond, then season. Make a vinaigrette with olive oil, lemon and grated lemon zest. Put the vinaigrette in a mixer bowl with salt and pepper, then mix.
Assemble the bundles:
Sauté courgette in a pan with the onion and slowly cook them down. Chop them and add a smidgen of cumin. Make small bundles, making sure to brush the pastry with olive oil and fold it once. The goal is to make small squares. Place a pinch of softened courgette in the middle with an almond sliver. Close the bundle and bake in a hot oven.
How to serve
Vary your enjoyment by alternating between hot and cold plates.