Back to the list
Starter
Courgette flowers stuffed with clotted goat cheese, purple artichoke and mixed greens
Red wine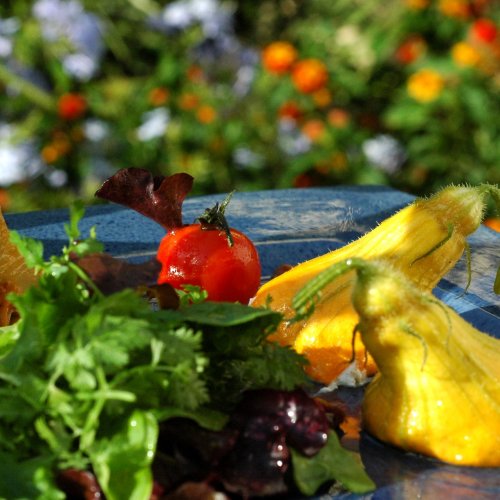 Ingredients
8 courgette flowers
4 purple artichokes
250 cl clotted goat cheese
50 g celeriac
2 garlic cloves
15 cl chicken broth
10 cl olive oil
Salt and pepper
Coriander
Direction
In Provence, courgette flowers are often stuffed, but usually with a special stuffing, with a clotted goat cheese base, that does not overwhelm the delicate flavour of the flowers. Toss the artichokes and cook them in olive oil, garlic and chicken broth. Add salt, pepper and coriander.
Mix the clotted goat cheese with two diced artichokes and diced celeriac. Next, relax a little with the cooked artichoke and a dash of olive oil. Season and stuff the flowers. Bake with a dash of olive oil for 2 minutes at 280°C. Refrigerate.
How to serve
Garnish the plate: Place 2 courgette flowers with a bit of mixed greens, season with the cooked artichokes and a few drops of balsamic vinegar. Add a half-artichoke, diced celeriac and a cherry tomato to each plate.