Recipe ideas


Back to the list
Dish
Ratatouille on toast of bread, chips of fresh goat cheese and basil
Rosé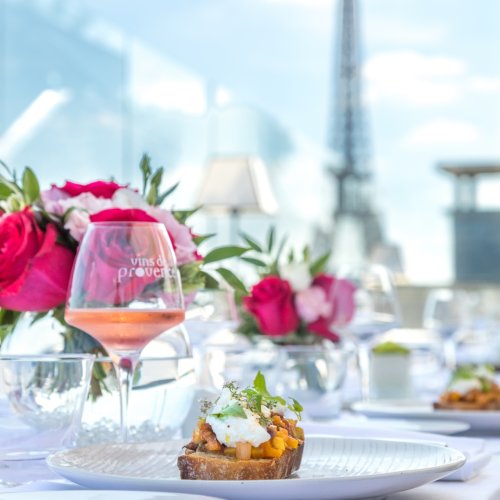 Ingredients
200g of squash 400g of eggplant 200g of yellow peppers 500g of black tomatoes "coeur de boeuf" or similar 20g of tomato paste 200g of white onion 4 cloves of garlic 10g of capers 50g black olives without stones 4 branches of thyme 2 bay leaves 8 basil leaves Coriander flowers (8 pieces) chives 5cl of vinegar 20g caster sugar 10cl of extra virgin olive oil 200g of fresh goat cheese 8 slices of grilled country bread Espelette pepper Flower of salt
Direction
● Wash all the vegetables. ● Cut both ends of the squash and eggplant and cut into 1/2 cm cubes. As well as peppers and white onion. Crush the garlic cloves and set aside. ● Boil tomatoes for 10 seconds, then cool under running water, peel, cut in half and remove seeds; cut the pulp into large cubes about 2 cm. ● Put olive oil in a cast iron casserole dish and add the pepper, onion, garlic and fry without staining for 10 minutes. Add thyme, bay leaf, tomatoes and concentrate, cover and let simmer. ● In a frying pan, brown the eggplant with olive oil and drain, then do the same with the squash without too much coloring. Add the eggplant to the casserole, adjust the seasoning, cover the casserole and cook for 30 minutes over moderate heat, turning occasionally. ● At the end of cooking, add the squash to avoid losing too much color, then the capers as soon as there is no more water in the pan. Add the vinegar in which you have stirred the sugar and let it evaporate. ● Remove from heat and let cool. Season well with Espelette and salt then chop the basil leaves and put them in it. Add a little olive oil if necessary and some nice black olives Nyons kind to the Greek.
Chef's Tip: You can prepare this ratatouille 12 hours in advance and keep it cool, it will only be better. *
How to serve
● Toast the sandwiches with a little olive oil and then equitably arrange the ratatouille, the goat in pieces and add the olive oil, some basil leaves and chives.