Back to the list
Dish
Ricotta and baby vegetable tart
Rosé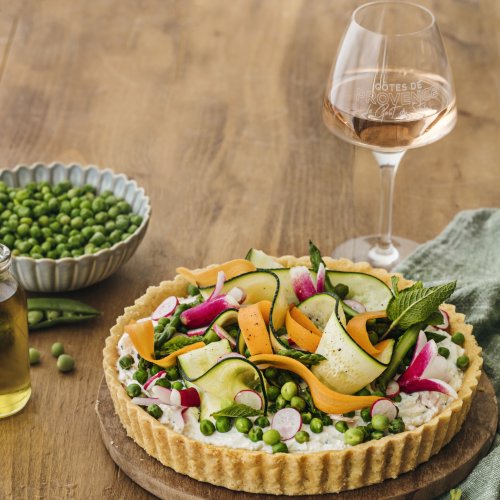 Ingredients
For the crust:
200 g flour
120 g grated parmesan
120 g butter
1 egg yolk
For the ricotta cream:
300 g ricotta (or cream cheese)
1 shallot
2 tbsp mascarpone
1 lime
For the toppings:
60 g radishes
3 courgettes
2 cl olive oil
100 g peas
½ bunch green asparagus
Salt and pepper
Direction
Mix the parmesan with the flour. Add the butter and mix by hand or with a mixer to a sandy consistency. Fold in the egg yolk. Work like a shortbread dough. Roll into a ball, wrap in cling film and refrigerate for at least 30 minutes. Then remove the dough and knead. Roll out the dough. Preheat the oven to 160°C. Press the dough into a perforated pie pan. Place a sheet of parchment paper on top of the dough. Mould the parchment paper to the raw dough. Place some baking beans on top of the parchment paper. Bake at 170°C until it turns golden (about 15 minutes).

Mix the ricotta (or cream cheese) with the zest from the lime, the finely chopped shallot and the mascarpone until smooth. Slice the radishes and spiralize the courgettes. Marinate the courgettes in a pinch of salt, a drizzle of olive oil and a twist of pepper from the pepper mill. Blanch the peas and asparagus. Plunge them into cold water after cooking to retain their colour.

Pour the ricotta (or cream cheese) mixture into the tart shell and garnish with the vegetables. Serve chilled.

Tip: Enjoy soon after preparation to ensure the crust is still nice and crisp.