Recipe ideas


Back to the list
Dessert
Strawberry tiramisu with a pistachio emulsion
Red wine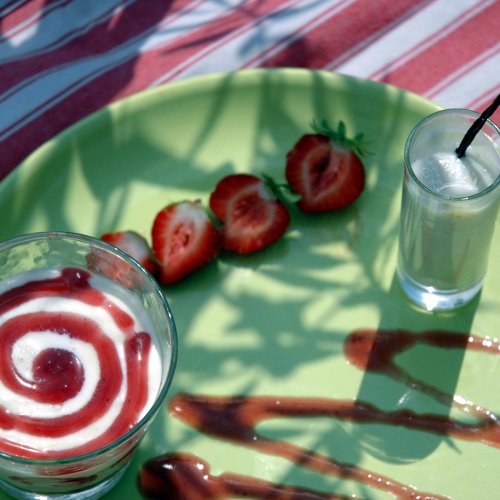 Ingredients
Sponge cakes or fingers
250 g Mara des Bois strawberries
250 g mascarpone cream
3 eggs
100 g caster sugar
30° Baume syrup with a touch of marsala or amaretto
5 g agar-agar
20 cl strawberry coulis
½ split vanilla pod
Direction
Mix the mascarpone with the sugar and yolks, then blanch and add the vanilla seeds and agar-agar. Whip the firm egg whites and add them to the mixture.
Cut the rolled-out pastry into cakes or fingers. Then, at the bottom of each glass, poach them in the syrup to soak it up all the way through. Add strawberries in quarters along the sides of the glass, mould the mascarpone cream and repeat for another two layers. Finish with a drizzle of strawberry coulis over the top.
Serve a pistachio emulsion on the side, made in the blender with pistachio ice cream, milk and a little crème fraîche.