Recipe ideas


Back to the list
Starter
Marinated anchovies ceviche
White wine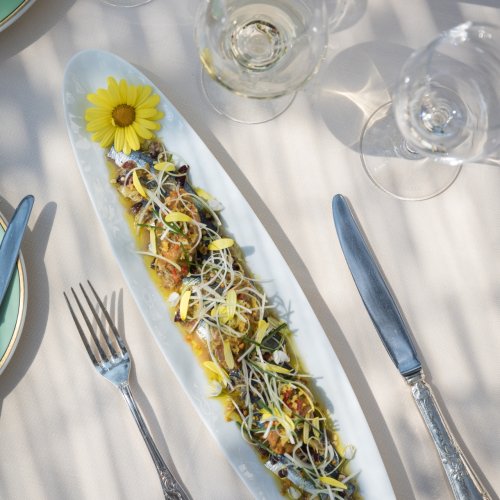 Ingredients
Main elements:
Fresh anchovies or Mediterranean sardines (12)
Coarse salt
Lemon juice
Elements of the filling:
Ratatouille confit
Julienne of raw steaks
Chives
Petals of Marigold (optional)
Garlic flowers
Bee pollen
Elements of the vinaigrette:
Mashed anchovies in oil (2 teaspoons)
Pepper
Lemon juice (2 tbsp)
Honey thyme (2 teaspoons)
Olive oil (4 tbsp)
Brunoise of green and black olives
Direction
Top, drain, rinse and dry the anchovies, then put them in coarse salt for 2 hours. Rinse, lift the fillets and marinate for 3 to 10 minutes in the lemon juice.
How to serve
Dress the anchovies on a plate. Sprinkle with vinaigrette, garnish with candied ratatouille dumplings, garnish with julienne de cotes, tossed with chives, marigold petals, garlic flowers and bee pollen.