Recipe ideas


Back to the list
Starter
Salmon gravlax with dill
Rosé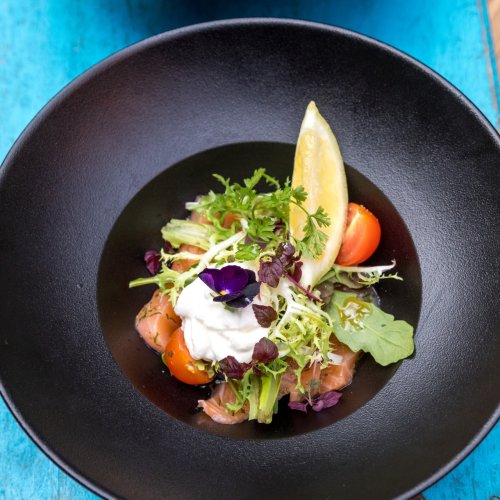 Ingredients
2 salmon scallop (about 80g / pers.)
1 bunch of dill
100g of coarse salt
100g of white sugar
20g of horseradish in pot
30cl of liquid cream
A few drops of black sesame oil to perfume
4 spoons of sweet soy sauce
A little grated citronella
A teaspoon of lemon juice
A quarter of lemon
Salt and pepper from the mill
Direction
• Choose 2 fresh and clipped salmon farm cobbles. • Prepare the marinade: make so much for so much sea salt and sugar. Add half a chopped dill and two scented pepper mill towers. • Place the flesh-side fillets on the marinade. Shoot the mixture and make sure that all the fish flesh is in contact with the marinade (possibly put a weight on the fish). • 24 hours later: rinse the fish under clear water (without soaking it), blot the remaining moisture with a paper towel. • Chop the remaining bunch of dill, a pepper mill turn and mix this mixture with the fillets. • Cut the slab into a slice about one centimeter.
** For horseradish foam: ** • In a saucepan over low heat, let steep horseradish for a few minutes in the liquid cream, salt and freshly ground pepper. • Filter the preparation in a fine sieve to remove any residues (to ensure proper use of the siphon). • Pour the preparation into the body of the siphon. Screw in the head, add the gas capsule, shake vigorously and reserve for at least 1 hour.
** For Thai sauce: ** 4 spoons of sweet soy sauce, a little grated lemongrass, a teaspoon of lemon juice and a few drops of black sesame oil to perfume.
How to serve
• Choose a soup plate. • Arrange the salmon slices fan, sprinkle with Thai sauce. • Shake the siphon cold and drop a cloud of horseradish foam. • Decorate with a few dill sprigs, a mesclun salad, a lemon wedge and some cherry tomatoes.