Back to the list
Rosé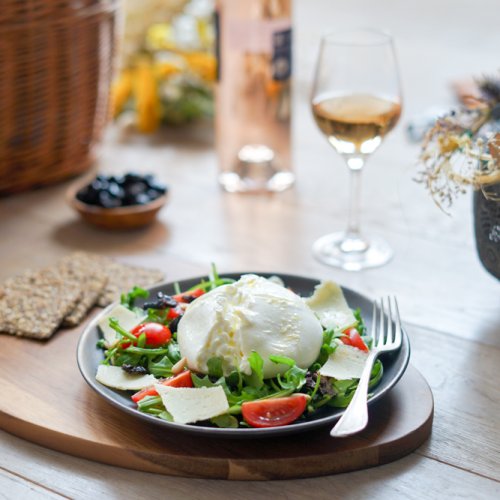 Ingredients
1 Burrata cheese
1 bunch cherry tomatoes
1 tbsp pine nuts
10 olives
Parmesan shavings
1 handful rocket leaves
Olive oil
Balsamic vinegar
Direction
• Take the Burrata out of the fridge 20 minutes before serving.
• In a dry frying pan, lightly toast the pine nuts until they are brown.
• Cut the cherry tomatoes in half or quarter. Chop up the olives.
• Arrange a bed of rocket leaves on your serving dish. Add the chopped cherry tomatoes and olives, and place the burrata in the middle.
• Make a small incision in the Burrata to let the cream pour out a little.
• Add a generous drizzle of olive oil, a touch of balsamic vinegar and the pine nuts. Top with the parmesan shavings.
• Enjoy straight away with slices of Focaccia bread.
How to serve
Garnish with some basil leaves for an even more delicious dish.
For a twist, try serving with fresh strawberries or raspberries!