Back to the list
Dish
SCALLOP RISOTTO
Recipe by WWW.LESPEPITESDENOISETTE.FR
White wine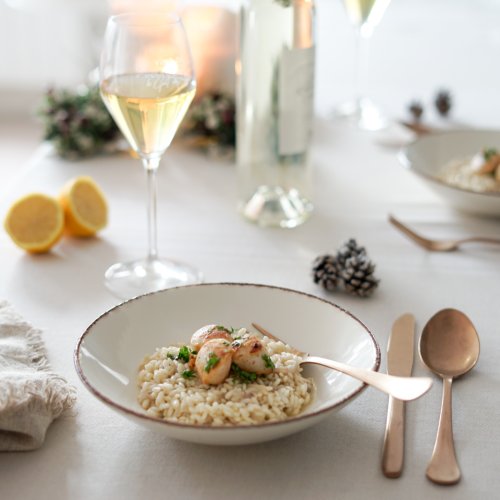 Ingredients
• 250g arborio rice
• 1 shallot
• 1 glass of white wine
• 1 liter vegetable or fish broth
• 2 garlic cloves
• 40g Parmesan cheese
• 1 tablespoon heavy cream
• 12 scallops
• Chopped parsley, to taste
• Slices of 1 lemon
• Fleur de sel and pepper to taste
Direction
Peel and dice the shallot.
In a pan, fry the shallot with a drizzle of olive oil, stirring frequently, until soft.
Add the Arborio rice. Continue cooking, stirring constantly for 2 to 3 minutes, until rice has a pearly gloss.
Deglaze with the white wine and simmer until evaporation.
Add the broth, 1/2 cup at a time, and stir after each addition until the liquid has evaporated.
Your risotto is cooked when the rice is soft and creamy, still slightly crunchy.
Add Parmesan cheese and cream. Stir, adjust the seasoning to taste and turn off the heat.
Heat a knob of butter and olive oil in a nonstick skillet. Pat scallops dry and add to the pan, they should sizzle. Cook 1 minute on each side.
Turn off the heat, add chopped garlic, parsley, fleur de sel, pepper and stir.
Serve risotto in bowls and top with sauteed scallops.
Serve immediately, with a squeeze of lemon.
How to serve
Add lemon zests to enhance flavors. For an original touch, you can also add dried seaweed flakes, giving a tasty iodine smell to the dish.