Back to the list
Rosé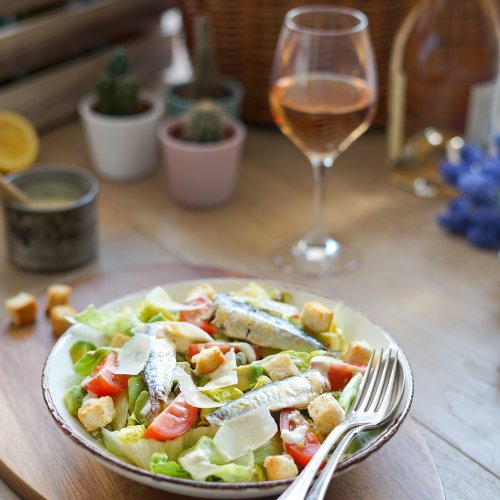 Ingredients
For the salad:
1 can sardines
1 lettuce
100g cherry tomatoes
1 avocado
1 slice farmhouse bread
Some parmesan shavings
1 tbsp capers
For the dressing: 3 tbsp of Greek yoghurt
1/2 a lemon
2 anchovies
1 small garlic clove
2 tbsp grated parmesan
2 tsp of Worcestershire sauce
1 tsp of strong mustard
4 tbsp of olive oil
Direction
• Slice the bread into small cubes. Pour some olive oil, salt and pepper (add a little bit of garlic and thyme if you want it to be even more tasty). Spread on a baking tray and bake in the oven for about 10 minutes, until they are nice and crunchy.
• Cut the cherry tomatoes in two, peel and dice the avocado. Slice the lettuce into thin slivers.
• Use a blender to mix all the ingredients for the dressing together, along with a touch of pepper.
If you don't have any Worcestershire sauce, you can use soy sauce.
You can also buy the croutons ready made to save time.
How to serve
• Arrange the sliced lettuce on your plate. Pour over a spoon or two of the dressing. Add the tomato and avocado pieces, the sardines, parmesan, and homemade croutons.
• Garnish with the capers and some additional dressing.
• Serve and enjoy immediately!