Recipe ideas


Back to the list
Starter
Billy's Tomatoes, Nectarines, Red Shiso and Grilled Rye Created byExecutive Chef Bobby Palmquist, The Walrus and the Carpenter, Seattle, WA
Recipe from Executive Chef Bobby Palmquist, The Walrus and the Carpenter, Seattle, WA
Coteaux d'Aix-en-Provence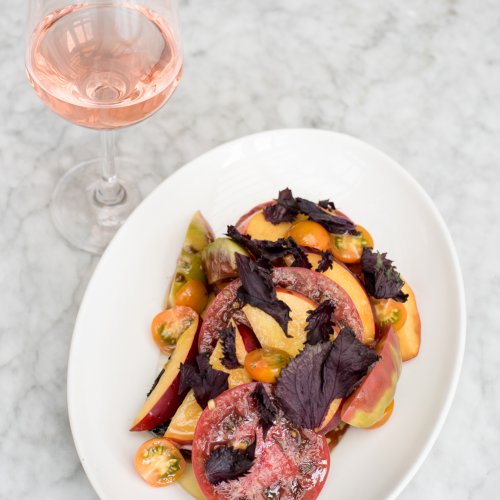 Ingredients
1 fresh tomato per serving
½ fresh nectarine per serving
Red shiso to garnish
1 slice rye bread per serving
Olive oil
For shiso aioli:
1 whole egg
1 egg yolk
Pinch of salt
1 Tbsp. lemon juice
3 cups grape seed oil
¼ cup chopped red shiso
Direction
In a food processor, place the eggs, salt, lemon juice and shiso.
With the motor running, slowly drizzle in the grape seed oil to form an emulsion. Taste for seasoning. Slice rye bread ½ inch thick. Drizzle with olive oil. Grill on both sides until charred and toasted.
How to serve
Place rye on bottom of plate. Spread shiso aioli on toast.
Cut one medium tomato and half a nectarine into slices and place both covering the rye bread.
Garnish with picked red shiso leaves. Sprinkle with olive oil, Espelt Grenache vinegar (or other quality red wine vinegar) and flake salt.