Recipe ideas


Back to the list
Dish
Skewer of quail raïto sauce, panisses and wild riquette bouquet
Red wine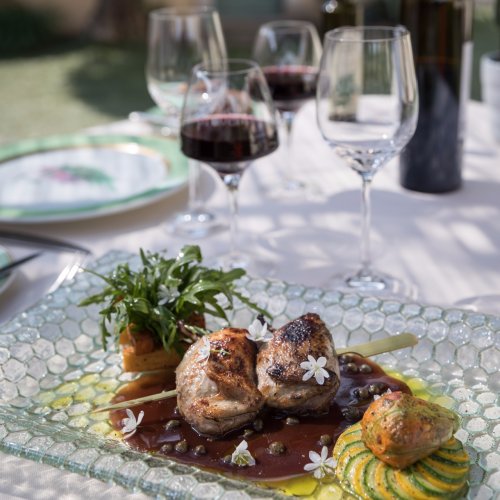 Ingredients
** Main elements: **
Quails Princesses (from 2 to 4)
Salt and Pepper
** Elements of raïto sauce: **
Red wine sauce (2 dl.)
Saffron powder
Black olives paste (1 tbsp)
Desalted capers (1 tbsp)
Pastis (1 trait)
Olive oil (3cl.)
** Elements of the filling: ** Panisses:
Chickpea flour (250g.)
Water (½ l.)
Olive oil
Salt
Salad:
Wild Riquette (2 bouquets)
Olive oil
Fleur de sel
Direction
The day before, make the panisse appliance: Dilute the chickpea flour in ¼ liter of water. Pour in a saucepan containing the other ¼ liter of boiling water, salt and oil. Cook, stirring for 10 minutes. Mold in a bowl and let cool sufficiently in the fridge. The next day, unmould and detail in large fries type pontine-nine to fry in olive oil in a pan. Drain and pepper.   Quails emptied and flanged are roasted on the spit if possible at the fire of the hearth.
Raïto sauce is a Bordeaux sauce in classic red wine with olive paste, desalted capers, scented with saffron and mounted in olive oil.